Wave Payments is an online payment processing and invoicing software that lets businesses accept online payments, bill customers through email and keep track of income records. Because it is free and only charges processing fees, it's an affordable option for small businesses. It also integrates with other Wave software to create a solid product for businesses that are looking for a simple way to invoice customers and get paid.
Free. There is no monthly fee. Users pay processing fees only.

None. There is no required hardware to use Wave Payments.

1% for ACH bank payments.

2.9% plus 30 cents for Visa, Mastercard and Discover.

3.4% plus 30 cents for American Express.

Not required. Wave does not require a contract.

Yes. Live chat and email are available for Wave Payments customers Monday through Friday from 9 a.m. to 5 p.m. Eastern time.

Easy to use. Customers say it is intuitively designed and simple to use.
How does Wave Payments work?
Wave Payments takes care of online billing and payments in a single platform. Businesses can invoice customers by email and let them pay directly from an invoice, simplifying the billing process to just a few clicks. The software also lets businesses set up recurring invoices for scheduled payments that can charge customers' credit cards automatically. The dashboard lets you enter credit card information manually for over-the-phone payments as well. Businesses can also add a checkout option to websites or social media profiles so customers can order directly from an online store.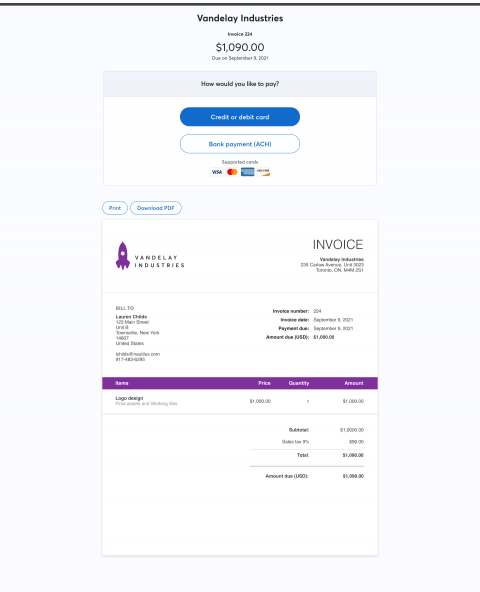 Customers can pay with credit cards, ACH payments through their banks or Apple Pay. Wave Payments accepts Visa, Mastercard, Discover and American Express.
Businesses generally receive their funds within two business days if a customer pays by credit card. ACH bank payments can take from two to seven days for funds to reach a business's bank account.
Wave Payments also connects with Wave Accounting for reporting features. Small businesses can view a breakdown of deposits as well as reports on paid and unpaid invoices, which payments are still processing, and more. Reports can be exported as PDF and CSV files.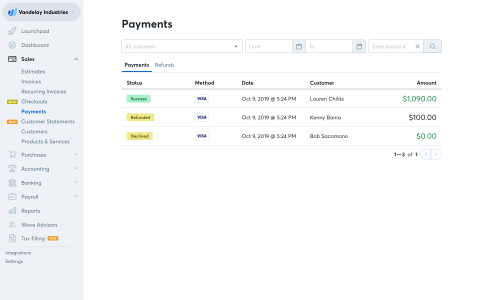 Businesses can access the dashboard online from anywhere they have an internet connection, which means they always have the ability to bill clients and see who hasn't paid.
Wave Payments offers several advantages, including:
Transparent pricing. With no monthly fee, you only pay processing fees.

Fast funding. Credit card payments can make it into your bank account within two days.

Recurring payments. Businesses can set up recurring invoices for regular charges or subscription fees.

Connection with Wave accounting. If you're using Wave's accounting features as well as Payments, the systems connect to streamline your bookkeeping records.
There are a few downsides to Wave Payments, including:
No integration with credit card readers. Wave Payments only works for online or manually-entered payments.

Incompatible with some digital wallet providers. While it works with Apple Pay, it does not currently work with Samsung Pay or Google Pay.

Potential for service cancellation. As is common with third-party payment processors, you can be deemed high-risk after your first transaction, which means your funds won't be deposited for 30 days.
What small businesses say about Wave Payments
Carolina Sanchez-Hervas, owner of CSH Translation, has been using Wave Payments for more than five years and finds the software to be "intuitive," noting:
The built-in payment option for online invoices is useful. "You can send a client invoice and they'll pay it right away. And then you get the funds in a couple of days," she says.

The accounting integration is helpful for filing taxes. "At the end of the tax year, I'll just download [reports] and send them to my accountant," she says. "It kind of makes her job easier and my job easier. It just keeps everything in one place."

It requires some manual data entry. The software doesn't currently integrate with Sanchez-Hervas' bank, which means she has to manually input her transactions.
Crystal Statskey, a digital marketer who has been using Wave Payments for almost two years, is also a fan of the software. As a solopreneur, she appreciates how it saves her time by automating processes, noting:
It's easy to set up recurring invoices. "As I create the invoice, I also have the option to set it as recurring invoices," she says. "And it also saves all my clients' information for future invoices."

It nudges customers automatically. "It also sets up reminders automatically to remind the clients to pay leading up to and after the due date until it's paid," she says.
A lot of online reviews of Wave's products center around the accounting solution, but some themes carry over to customer experiences regardless of the product.
It's easy to use
Overall, customers have found Wave easy to use and convenient for invoicing and accepting payments. They like the mobile app and dashboard features, along with the ability to make professional, branded invoices. Additionally, customers have found the payment processing aspect flexible and well-priced for the features they get.
Customer service can be unhelpful
Reviews often say customer service isn't helpful, especially in working through disputed claims and chargebacks. Some customers have also complained that Wave freezes payments but won't give a straight answer about why thousands of dollars in funds are being held up.
Some report account freezes
Some customers who have used Wave's payment features have complained that their accounts were canceled after an initial transaction due to being flagged as high-risk businesses. In most cases, the businesses were unable to defend themselves and had to wait 120 days before any funds were transferred.
When asked about its risk review process, Wave said that it evaluates a new customer's business and industry to identify any red flags that point to a fraudulent setup as part of the application and approval process. However, some information isn't available until payments have been received, which can delay the company's ability to investigate a business further. This has led to some customers having their funds held or refunded. Wave recently reduced its fund holding time from 120 days to 30 days.
Alternatives to Wave Payments
FreshBooks
Another free software option to consider is FreshBooks, which lets you customize your invoice and accept online payments. Invoices can be sent for one-time charges, scheduled for regular charges, or broken up into partial payments. Customers can pay directly from an invoice by credit card, ACH bank transfer or Apple Pay — the same options offered by Wave Payments. The processing fees are a flat rate of 2.9% plus 30 cents for credit cards and Apple Pay, and a 1% fee on all U.S.-based ACH transfers. Plus you can add checkout links on your business website and social media profile so customers can check out without having to wait for an invoice.
Square
Square also offers invoicing and online payments as part of its small-business solutions. Square features include creating and sending unlimited invoices, scheduling invoices for recurring payments, and even saving a card on file to charge automatically. Businesses can also send payment requests via SMS text messaging or sharable links to give customers the most convenient way to pay. Customers can make payments with credit card and ACH bank transfers, as well as Apple Pay and Google Pay.
Square's basic invoicing options are free, but businesses can pay $20 a month for advanced features. Processing rates are the same for both plans — 2.9% plus 30 cents for online payments, 2.6% plus 10 cents for in-person swipes on a credit card reader, and 1% with a minimum fee of $1 for online ACH bank transfers.