If you've ever flown Southwest Airlines, you've seen that the carrier doesn't differentiate its seats between first class, premium economy or economy. With the exception of bulkhead rows and emergency-exit rows that offer extra legroom, all seats look the same.
However, when you go online to book a Southwest ticket, you might notice three different fare types being sold:
If all the fares put you in the same type of seat, what's the difference?
Wanna Get Away fares offer travelers the best value, while Business Select fares offer the most flexibility. The fares in the middle, called Anytime fares, fall somewhere in between.
What are Anytime fares on Southwest Airlines?
Southwest Anytime fares offer the best ratio of flexibility to cost. Although this ticket type costs more, it comes with tangible perks, such as higher rewards earning rates on the cost of your flight as well as a flexible change and cancellation policy.
Here's what you can expect from booking a Southwest Anytime fare:
Earn 10x Rapid Rewards points per dollar.

A full refund to your original form of payment as long as you cancel your flight at least 10 minutes before departure.

Free same-day flight changes as long as there's an open seat on a flight going to the same destination as your original ticket.

Up to two free checked bags per person listed on the reservation — included with all fare types.

Free in-flight entertainment on your personal device — included with all fare types.
What's the difference among the three Southwest fare types?
Each of the three fare types offers something unique to Southwest passengers — be it low cost, change and cancellation flexibility, or priority boarding. Your preference depends on your travel style.
Southwest Wanna Get Away fare vs. Anytime fare
As a Rapid Rewards program member, you earn 10 points per dollar spent on your Anytime ticket. Wanna Get Away fares earn rewards at a lower rate of 6 points per dollar.
Anytime fares are also eligible for same-day confirmed and standby changes. Want to fly on an earlier flight going to the same destination? Get on a list at no extra cost. Wanna Get Away flyers must pay the fare difference for the privilege.
Perhaps the biggest difference between the two fare types is that Southwest Anytime fares are refundable and Wanna Get Away fares are not.
Although you can cancel a Wanna Get Away fare without paying fees, the ticket value is issued in the form of a flight credit to your Southwest account, which you can apply toward a future flight. The voucher also expires a year after you book the ticket. Anytime fares are fully refundable, and your cash isn't stuck in an airline account.
Southwest Business Select fare vs. Anytime fare
Southwest Business Select fares don't actually mean you get to fly in business class. Southwest doesn't offer a business class cabin on its flights, so instead of cushy seats and extra legroom, the special treatment is measured in terms of extra benefits.
First of all, at 12 points per dollar, Business Select fares earn the most points per dollar spent on tickets.
Additionally, by booking a Business Select fare on Southwest Airlines, you're guaranteed a priority boarding position between A1 and A15. This boarding position gives you a better chance of having a preferred seat onboard because of the airline's open seating policy.
Anytime fares don't automatically include priority boarding, but you can add Early Bird Check-In by paying $15 to $25 per passenger per flight. This benefit improves your seat selection options by checking you in automatically 36 hours before flight time — a full 12 hours before general check-in starts.
Nerdy tip: Passengers who book Anytime fares have priority over those who purchase Wanna Get Away fares and add Early Bird Check-In.
Business Select flyers also get to go in the Fly By® priority queue for check-in and security screening at the airport.
How to book Southwest Anytime fares
Southwest fares aren't searchable on Google Flights or other online travel agencies, such as Orbitz or Expedia, so you have to look for airfare directly with Southwest.
Go to southwest.com and the process from there is pretty straightforward:
Input your city pair and travel dates.

Check whether you need a one-way or a round-trip flight.

Select the number of passengers.

Decide whether you want to pay with cash or with Rapid Rewards points.

On the next page, you'll be presented with flight options and available fare types: Wanna Get Away, Anytime and Business Select. The flights are listed chronologically based on departure time.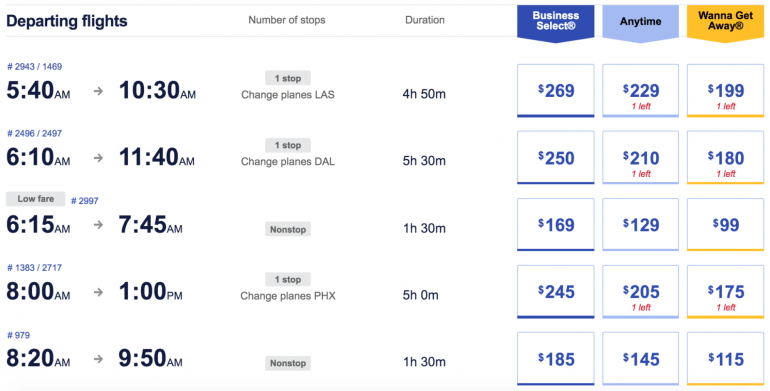 If your dates are flexible, select the "Low Fare Calendar" button and shop by flight cost.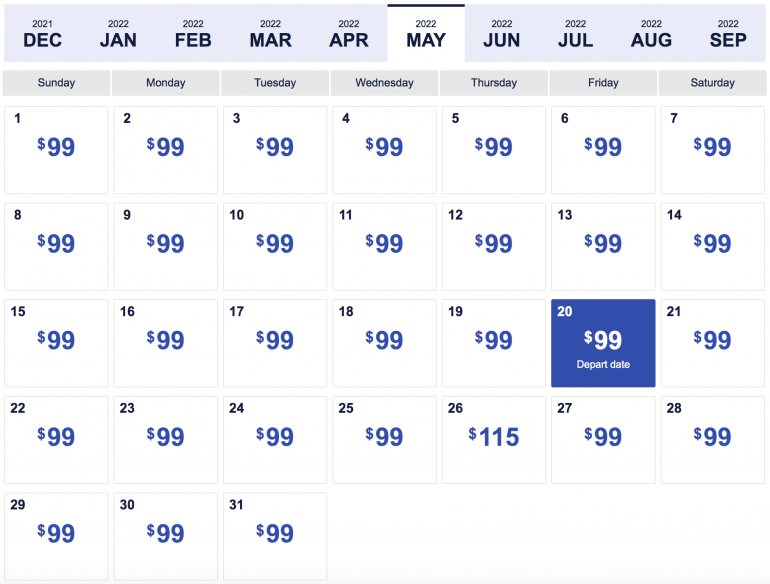 When you're back on the flight selection screen, navigate the cursor over each fare type to see how many Rapid Rewards points it earns. Note that points are awarded based on the base fare without taxes or fees.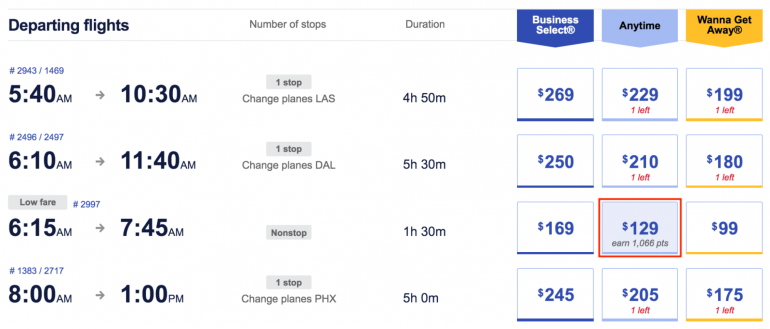 Select your preferred fare type, in this case Anytime, and finish your booking by entering your passenger information. If you're logged in to your Rapid Rewards account, this information will be pre-filled for you.

Finalize your purchase by submitting payment and enjoy your trip.
Are Southwest Anytime fares worth the extra cost?
As always, the answer depends on the part of your travel experience you value most. Let's take a more detailed look at what to expect when you book Anytime fares on Southwest.
Let's use a one-way flight from Salt Lake City to Denver in May 2022 as our example in both comparisons. The parameters are as follows, taking into account a valuation of 1.4 cents per Rapid Rewards point, as per NerdWallet's estimate.
| | | Rapid Rewards points earned | Approximate value of Rapid Rewards points earned |
| --- | --- | --- | --- |
| | | | |
| | | | |
| | | | |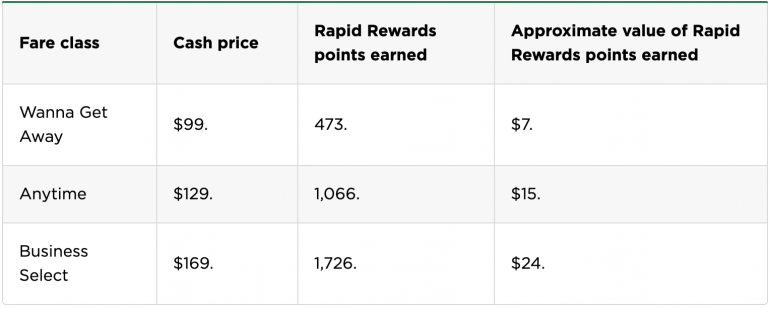 The value of Southwest Wanna Get Away vs. Anytime fares
Wanna Get Away fares are the least expensive fares Southwest sells. They come with free cancellations, but not refunds. They also offer the lowest rewards earning rates.
For an extra $30 on this particular itinerary, you can book an Anytime fare with extra cancellation flexibility on top of a higher earning rate worth an extra $8 when compared to what you'd earn by booking a Wanna Get Away ticket. Peace of mind might be worth the extra $22 — after subtracting the value you'd earn in points.
The value of Business Select vs. Anytime fares
A Business Select fare costs an extra $40 over the Anytime fare on the selected flight. The Business Select fare automatically puts you in the A1 through A15 boarding group, comes with airport perks and an extra 2 points per dollar spent over the Anytime fare.
The extra earnings here are worth just $9, which leaves you with $31 in extra cost. If priority boarding is important to you, buying an Anytime fare and adding Early Bird Check-In might be a better move here.
If you want to book a Southwest Anytime fare
Anytime fares on Southwest provide passengers with more flexibility than Wanna Get Away fares but with fewer perks than Business Select fares. The extra rewards add quite a bit of value over Wanna Get Away fares, and the generous change and cancellation policy — which is worth its weight in gold in this day and age — makes the extra cost worth considering.
How to maximize your rewards