There's nothing quite like a Disney park. Whether you're visiting the original Disneyland or have been swept away by the multiple parks at Disney World, these amusement parks set the standard for creativity and immersion. Another way Disney sets the standard? Its pricing. Nowadays, a single-use ticket tops well over a hundred dollars per person — and that's without any fancy add-ons. Although you won't ever be able to make a Disney ticket free, you can do better than simply buying tickets off the website. Take a look at some of the best ways to buy Disney tickets.
4 best ways to buy Disney tickets
1. Discounted ticket sites
Probably the most common method to save money when purchasing your Disney tickets is by using a discounted ticket site in order to do so. There's no shortage of websites willing to sell you tickets — but you'll want to make sure you're sticking with one that's reputable.
AAA, the famous association that offers benefits on everything from hotel stays to restaurants, also happens to sell discounted Disney tickets. A membership to AAA isn't free; there's an annual fee associated with your account based on where you live. However, members in certain locations can receive some decent discounts on Disney tickets.
The AAA Auto Club Group, which serves residents of 14 different states and Puerto Rico, will sell you Disney World tickets with a nice discount. Take, for example, a four-day base ticket, which will run you $498.86 as a member:

That same ticket on Disney's website will cost you $554.93:

Nerdy tip: Active-duty service members and eligible veterans qualify for special rates on Disney tickets that can shave hundreds of dollars off the regular purchase price.
Undercover Tourist is another popular website that offers a cheaper way to buy Disney World tickets. Its discounts aren't quite as compelling as those AAA offerings, but they're available to everyone without a membership.
That same four-day ticket that Disney charges $554.93 for can be found on Undercover Tourist's website for $535.32.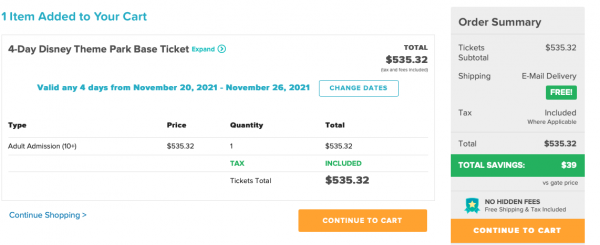 You're saving roughly $20 per ticket when purchasing through Undercover Tourist versus directly with Disney.
2. Paying with points
If you're looking to use points when purchasing your tickets, you're in a bit of a bind. Currently there is no, say, AmEx discount for Disney tickets. It's still possible to use your reward points to buy tickets, though it's not necessarily a great value.
Websites such as Undercover Tourist allow you to pay with PayPal at checkout. Many card issuers, including Citi, American Express and Chase, have partnered with PayPal in order to redeem your points. The value you'll receive isn't great; AmEx points used this way are worth 0.7 cent each, while Chase points can be redeemed at a rate of 0.8 cent per point. Meanwhile, those who hold the Citi® Double Cash Card – 18 month BT offer will receive a value of 1 cent per point.
3. With a vacation package
This next option won't have you using points, but it can save you a lot of money. Vacation packages bundle together options such as theme park tickets, hotels, car rentals and airfare. Doing so will allow you to save money.
Consider booking a vacation package through Costco Travel. You'll need a membership card to use Costco Travel, but acquiring one can help you save big. For example, the cost of a five-day vacation at a Hilton, including five-day park hopper tickets, will run you $2,008.56.
The cost to book that same hotel and tickets separately? $2,811.53 — and that doesn't include the parking.
In this case, you're saving $802.97 by bundling your hotel and tickets together into a vacation package. Hilton Honors Disney ticket packages are also available, as are many different retailers offering vacation packages.
Nerdy tip: You can also save money on your vacation by using points to book your hotel.
Keep in mind that many vacation packages also code as travel on your card, which means that you can maximize how many points you earn by paying with a credit card that earns additional bonus points on travel.
4. Using the United MileagePlus X app
Although a favorite with United loyalists, the United MileagePlus X app doesn't get enough credit for what it offers. It's available only as an app — there's no website — and awards you bonus miles for purchases with hundreds of different retailers, including Disney.
Disney gift cards available through the app will reward you with 3 United miles per dollar spent. You can buy in increments up to $500 and then immediately use those gift cards to buy tickets on the Disney website. Even better, you'll still earn reward points on the credit card you use to pay, which means you'll be double-dipping on your earnings.
If you want to buy Disney tickets for cheap
There's no bones about it: Disney tickets can be expensive. But there are plenty of ways to save on the cost of your vacation, whether you're bundling together with a vacation package, purchasing discounted tickets or maximizing the amount of points you'll earn. However you choose to pay, make sure you're working out the best method for your situation.
How to maximize your rewards