Square Appointments combines appointment scheduling, a way to communicate with customers via text and email and take payments in a single cloud-based platform. On top of its appointment managing capabilities, it also provides a few customer- and team-management features as well as full integration with Square's point-of-sale system.
Square Appointments summary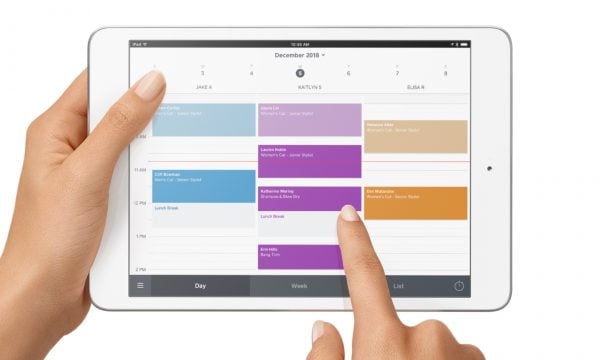 Pros
Integrates with Square POS.
Cons
Heavily reliant on other Square products.

Some alternatives have more specialized features.

Free plan only allows one user.
Who Square Appointments works best for
Square Appointments is best suited for self-employed entrepreneurs and service-based businesses, such as hairdressers, salons, spas and personal trainers. If you run a business without employees, you can use this app for free.
Square Appointments features
Online booking
With Square Appointments, you'll create a custom booking website, which can either stand alone or embed into your existing website through an integrated widget or booking button. Once your site is up, customers can book, cancel or modify appointments on their own devices. You can also:
Customize appointment duration and payment options.

Choose to charge a fee or full repayment for no-shows.

Automate customer reminders on text and email.

Prevent double booking with personal events you keep on Google Calendar.

Manage multiple locations, and even multiple spaces within a location, like chairs or rooms.

Book with multiple staff members.

Let customers book with Instagram, Facebook or Google.
Customer management
When a customer books their first appointment, Square saves their personal and billing information for easy, one-click rebooking. You can also view every customer's appointment and billing history through their dedicated customer profile.
Team management
Along with managing your customers, Square Appointments comes with built-in features that let you manage your employees. Square's cloud-based software automatically syncs your master calendar with each employee's calendar, so everyone is in the loop about changes and updates. Individual team members will also receive their own confirmations about their appointments.
Inventory management
If you sell additional retail items, you can use the item management features within Square Appointments to add items directly to a customer's appointment for a seamless checkout. Sales are automatically attributed to the correct employee. Additionally, you'll be able to track your stock in real-time and receive email alerts when the stock of an item runs low.
Square Appointments pricing
Square Appointments has four pricing tiers:
Payment processing: 2.6% plus 10 cents per in-person payment.

Payment processing: 2.5% plus 10 cents per in-person payment.

Payment processing: 2.5% plus 10 cents per in-person payment.
Hardware pricing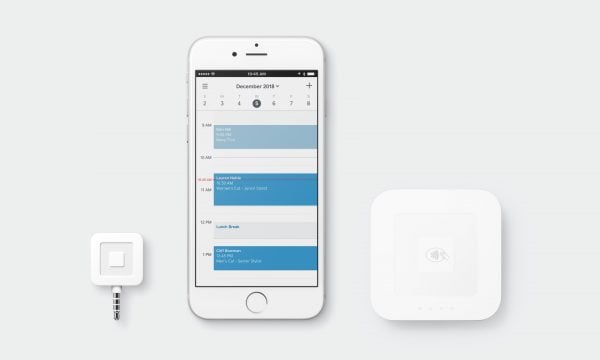 You can run Square Appointments on a computer, as well as smartphones or tablets running iOS or Android. However, unless you plan on manually entering in card transactions, you'll probably also want to invest in a card reader. In addition to being faster to use, swiping, dipping or tapping a card also incurs lower fees, so opting for Square-built hardware will make sense for most.
The cheapest option is to pair a phone or tablet you already own with a card reader. Square gives you your first magstripe reader, which plugs into your device, for free. Free is a definite plus, but the reader is limited to swiping cards. Adding a wireless reader for $49 lets customers tap or dip cards as well.

If you need a more robust hardware for checkout, you can also buy a Square Register — a desktop device with a 13-inch employee-facing touchscreen and a 7-inch customer-facing touchscreen ($799)
Other point-of-sale features
Whichever method you use, Square's POS software:
Automatically adjusts prices for taxes, tipping and discounts.

Accepts payments even without an internet connection.

Has a long list of business management features, including reporting, customer feedback garnered through digital receipts, inventory tracking and integration with Square's myriad other management tools.
Pros and cons of Square Appointments
Pros
Easy to use: As is the case for the whole Square product suite, Square Appointments is known for its intuitive, user-friendly interface. Whether you're a brand-new business owner or have been operating for years using a hand-written schedule, Square Appointments makes it quick and easy to start booking clients.

Mobile-friendly: Again, like the other products within the Square suite, Square Appointments works well on mobile. This app-based service can be especially helpful for business owners who operate from multiple locations. Square Appointments is available for both iOS and Android tablets and smartphones and gets a high rating in the Apple and Google Play app stores.

Free option: A free service with as many features as Square Appointments has is worth considering. As long as you don't need to add employees to your account, you can use Square Appointments for free, only paying for payment processing.

Square integration: Square Appointments is part of Square's larger suite of products. This booking software directly integrates with Square POS and gives you the ability to utilize any of the other useful business tools offered by Square, including Invoices, Messaging and Marketing.
Cons
Reliance on Square: It's good that Square Appointments works well with other Square products. But if you already use other tools that don't connect or work well with Square, or don't want to use Square for payment processing, it's going to be difficult to make Square Appointments work for your business.

Cost of paid plans: Some competitors offer similar features at a more affordable monthly cost for businesses with many employees.

Limited specialty features: Other products might offer more powerful or customizable features.
Square Appointments alternatives
10to8: Free plan that supports two users
10to8 is a cloud-based appointment scheduling software that shares a number of features with Square, including calendar syncing and customer management. 10to8 offers five plans of varying sizes. There is a free plan that allows for two users, compared to Square's one, but you'll be limited to 100 appointments per month. With 10to8, you can choose from two payment processors, PayPal and Stripe, but it offers fewer ancillary services, like invoicing, compared to Square. Additional features include:
Automatically send questionnaires to your clients before their appointment, so you can gather relevant information ahead of time

Schedule and host virtual meetings.

Strong accessibility features.
Appointy: Solid product with good customer support
Appointy is a powerful scheduling software that lets your customers book appointments, classes, workshops, events, tours, rides or other modes of service delivery. It uses Square's POS system to accept payments. Appointy offers four service tiers, including a free option. Appointy stands out for features like:
The option to chat with customers in addition to texting and email.

Excellent customer service options, including the ability to share your screen with an Appointy representative.

Virtual meeting appointments.

Manage physical resources, like tools, so you know they'll be available at each appointment.
Mindbody: Good for a fitness business willing to invest
You might have seen Mindbody at fitness-, wellness- and beauty-related businesses. Compared to others in this story, Mindbody isn't cheap: the cheapest of its four tiers costs $139 per month. Payment processing starts at 2.75% per transaction, but some businesses qualify for custom pricing. However, it also offers powerful features you won't find elsewhere, including:
Be part of Mindbody's customer-facing list of studios, gyms and other places that use Mindbody, giving potential customers another way to find you.

A complete POS system, including POS terminals through Poynt if you need to process payments at your front desk

Create a custom app for your customers to use.

Stay on top of scheduling substitute instructors with tools that make the process easier.
SimplyBook.Me: Highly customizable
SimplyBook.Me lets businesses take control of many aspects of its product. From creating a custom, modern booking website to giving U.S. businesses their choice of more than a dozen payment processors. SimplyBook.Me offers five service tiers. The free version gives access for up to five users, which is among the best we've seen for free versions, but only 50 bookings per month, which is among the lowest. Other features include:
If you handle sensitive data, know that SimplyBook.Me offers HIPAA-compliant versions of its software.

Support for multiple different languages.

Get two months free if you pay on an annual basis.

Professional set up, for an additional fee.
A version of this article was first published on Fundera, a subsidiary of NerdWallet.