When it comes to luxurious flight experiences, it's hard to compete with either Emirates Airlines or Qatar Airways, two airlines that offer some of the most highly-ranked airline suites in the world.
If you're deciding whether you want to book Qatar Qsuite versus Emirates first class — or if you're just curious about which of these airline suites is better — we've tried them both so we can give you our take.
Intro to Qatar Qsuite vs. Emirates first class
Qatar's most well-known business class product is called Qsuite. While other types of business class seats are offered by the airline, this comparison focuses solely on Qsuite.
Both Qsuite and Emirates first class experiences included a privacy door and on-demand dining — two options that most flyers seeking a more plush experience consider.
For Emirates first class, we focused on suites in the A380 aircraft. Although Emirates recently initiated a new first-class product on some Boeing 777-300ER aircraft, it is not widely available.

For Qatar Qsuite, we focused on suites in the A350 aircraft, the most common plane traveling between Doha, Qatar and the United States.
Quality of the suites
Winner: Qsuite
Although it was a close call, more comfortable seats and connecting beds give Qatar Qsuite the edge for which airline has the best suite.
Emirates first class
Emirates first-class suite feels genuinely luxurious. When you first sit down, you'll notice a lot of extra touches that you won't find in Qatar Qsuite, including:
A wide selection of water and soda.

A mirror with skincare and beauty products.

A table with a notebook and a lamp.
Like Qsuite, Emirates' first-class suite offers a privacy door, making the experience feel intimate.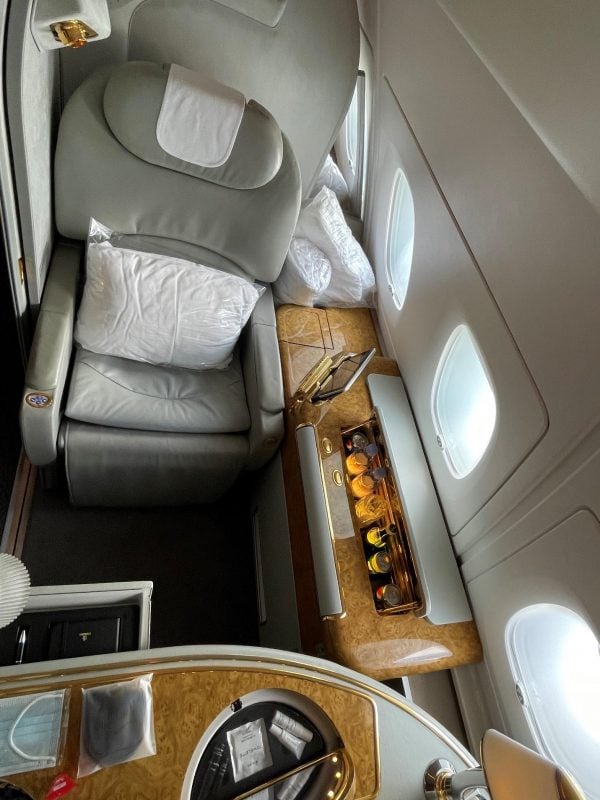 Qatar's Qsuite
Qsuite doesn't have as many bells and whistles as Emirates, but the seat is more comfortable and even comes with a back massaging option.
If you're traveling with a companion in Qsuite, you can get a seat next to them and connect your beds. This feature can make the flight experience for a special occasion — such as an anniversary or honeymoon — even more memorable.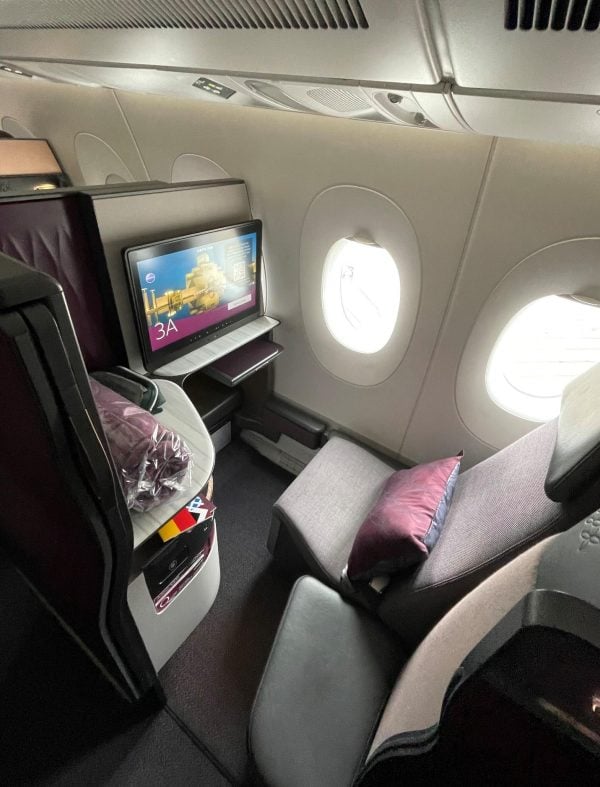 If you're flying with a friend, you can watch a movie and have dinner together, and when you're ready to sleep, put up the privacy divider.
The cabin experience
Winner:
Emirates
Simply put, Emirates first class offers a more exclusive experience. For example, in the A380, there are only 14 first-class seats compared with up to 46 Qsuites (depending on which plane you fly with Qatar).
The Emirates cabin also feels more open and spacious, partly because Emirates first class doesn't offer any overhead space to store your luggage. Furthermore, the Emirates cabin includes a private bar with sandwiches and snacks you can grab at any time. With Qsuite, you'll have to drink solely from the comfort of your seat and alert a flight attendant when you are ready to eat.
Emirates is the clear winner regarding which airline has the better cabin based on these factors.
Food and drink
Winner:
Emirates
Emirates first class and Qatar Qsuite offer dining-on-demand — meaning you can order food whenever you want instead of having a set time for meal service. Your dining experience changes based on your flight, route and seasonal offerings.
Qsuite offers delicious food and a wide selection of alcoholic and non-alcoholic beverages — we'd recommend trying the iced chai latte.
While the food is excellent on both airlines, Emirates goes above and beyond, offering caviar and Dom Perignon champagne. This gives Emirates a slight edge over Qsuite.
Extras
Winner:
Emirates
Emirates shines with all the extras that come along with its first-class product. Although you should check to see what amenities are included with your flight, below are examples of some special perks you may get when flying Emirates first class:
Access to both first- and business-class bars.

An onboard shower that you can reserve for up to 30 minutes at a time.

A guide to greet you when you land at the airport and escort you through security.

Bvlgari amenity kit, which includes an entire bottle of cologne or perfume.

First class lounge access, including a complimentary massage and waiter service at the restaurant.

Specially designed pajamas that release shea butter and argan oil to keep you moisturized.

A private boarding gate for first-class passengers to use right outside the first class lounge in Dubai.
While Qatar also offers pajamas and access to a lovely business-class lounge in Doha, Emirates wins by a mile when it comes to built-in perks.
Emirates offers the best airline suites
When it comes to which is better — Qsuite or Emirates first class — the clear winner is Emirates. Although Qsuites offers a luxurious suite with on-demand dining and beds that can be connected, Emirates goes above and beyond by providing features such as caviar, an onboard shower, two bars and chauffeur service after you land.
How to maximize your rewards