A payment link is essentially a URL or QR code that takes customers to a stand-alone web page that can be created in a few minutes. A customer who clicks on a link is sent to a simple checkout page where they can complete the transaction. You can set up a unique link for each good or service you're selling. One payment link can facilitate a transaction for a single intended recipient, like an invoice would, up to an unlimited number of customers.

Benefits to using payment links
A payment link lets you easily accept online payments without the need to build out any other digital infrastructure.

Payment links are typically customizable, and you can set one up in minutes, making them a good option when speed or flexibility is important.
Drawback to using payment links
While using a payment link as a de facto invoice can work on occasion, it won't allow you to track multiple invoices at once or automate reminders.
When using a payment link makes sense
If the concept seems simple, that's because it's meant to be; it's an online transaction stripped to its essentials. Here's why you might want to create a link that sends customers to a single-use webpage:
You don't have your own website. Maybe you have a new business or handle most of your transactions in person.

You have a website, but it doesn't support e-commerce. Or, maybe you don't want to operate an e-commerce site on an ongoing basis.

You sell through many digital channels. Perhaps you do a lot of business directly on your social media pages, through text messages or with a newsletter, and you want to tailor the experience for each.

You need a tool that supports sporadic sales. Maybe you release special editions a few times a year, but you don't want to go through the process of building it into your permanent website.

You have distinct audiences. If you plan fundraisers, for example, you probably want to maintain distinct donation pages for each event.

You want to sell in person without hardware. Add a QR code that goes to your payment page on a poster.

You mostly sell in person, and maybe even have a website. But occasionally, you'd like to use payment links in specific situations. Even if your current payment processor doesn't offer payment links, you can use payment links through another payment processor alongside your existing payment setup.

There is an element of unpredictability to your business, and you want to be able to move quickly. For example, if you grow and sell fresh produce or baked goods.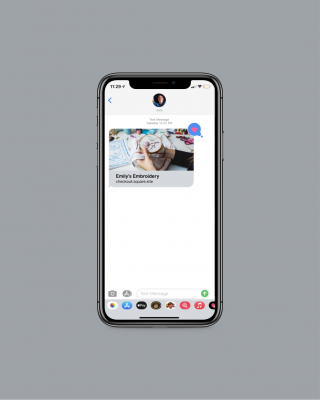 Choosing a payment links provider
Links are a relatively new addition to the payments scene. A handful of mainstream payments companies have added them to their product lineups in the past 18 months. Adyen and Square each launched a version of payment links in mid-2020, while Stripe started offering them in May 2021. With merchants increasingly looking to do business across multiple channels, more payment processors may offer payment links in the future.
The payment link services offered by the companies listed below provide similar user experiences. But some platforms stand out in other areas. For example, Square has a strong lineup of point-of-sale hardware, making it a good option for those who also accept in-person payments, while PayPal and Stripe can accept payments in several countries and currencies. If you currently don't have a payment processor or are thinking about switching, consider the full range of features each product offers beyond payment links.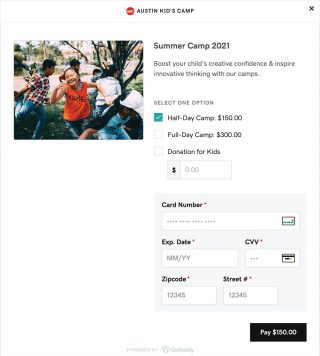 How it works
You'll need to create a business account with the payment processing company before using their payment links service. The companies listed below don't require a long-term contract or monthly fee.

Just like any other card transaction, you'll pay a processing fee whenever a customer buys something using a payment link.

All options below include the ability to customize the payment link, including adding an image.
Popular payment link providers
Adyen
Adyen is a payment platform specializing in e-commerce businesses that sell through multiple channels.
How to get payment links: Go to your merchant account, navigate to the "Pay by Link" page and click "Create payment link."
Payment processing fee: Interchange plus a markup that varies depending on the card used.
Alternative payment modes accepted: Apple Pay, Google Pay and Paypal.
GoDaddy
GoDaddy is a payment processor that specializes in online services, like website builders and marketing tools.
How to get payment links: Log on to your Payments Hub, select "Online Payment Links" and choose "Create Link."
Payment processing fee: 2.3% plus 30 cents.
Alternative payment modes accepted: PayPal.
PayPal
PayPal is an online payment platform that has a wide global presence.
How to get payment links: Sign in to your PayPal Business account, go to the page titled "Sell on Social Dashboard" and select "Add product."
Payment processing fee: 2.59% plus 49 cents for card transactions; 3.49% plus 49 cents for PayPal, Venmo and crypto.
Alternative payment modes accepted: PayPal, Venmo and some cryptocurrencies.
Square
Square is a payment processor with tools for in-person and online shopping.
How to get payment links: Log on to your Square dashboard, go to "Online Checkout" and select create a link.
Payment processing fee: 2.9% plus 30 cents.
Alternative payment modes accepted: Apple Pay, Google Pay and PayPal.
Stripe
Stripe is a payment processor known for being highly customizable.
How to get payment links: Navigate to your Stripe dashboard, open the "Payment links" page and select "+ New."
Payment processing fee: 2.9% plus 30 cents.
Alternative payment modes accepted: Apple Pay and Google Pay.