LawPay is a payment processor for law firms that want to accept credit cards and eChecks in person, online or through email. It costs $20 per month, plus fees per transaction. LawPay is best for firms that want online payments, QR codes and integration with other software.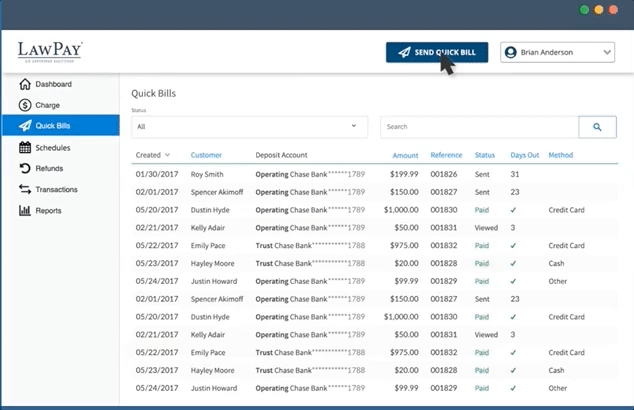 | | |
| --- | --- |
| | |
| | |
| | |
| | 1.95% processing plus 20 cents per transaction. |
| Specialty cards (corporate, rewards) | 2.95% processing plus 20 cents per transaction. |
| | 3.5% processing plus 20 cents per transaction. |
| | 0% processing plus $2 flat per transaction. |
| | |
Ease of client use. LawPay provides a payment link to put on invoices, emails and your website so clients can pay quickly and easily.

Can use QR codes. This allows clients to pay you directly from their phones, which may get you paid faster. You can display the QR code at reception or your desk so clients can even pay before they leave.

Scheduled payments. You can schedule charges to clients' cards so you're paid automatically.

Mobile app (iOS and Android). Allows you to accept payments from your phone. You can enter payment details manually or use LawPay's card reader.

eCheck capabilities. If the client doesn't want to pay with a card, you can take a check electronically.
No in-person training (but online sessions are available).

No access without a virtual private network, or VPN, if you're outside the U.S., Canada or Australia.
Key decision-making factors
Customer service. LawPay offers unlimited phone support and email support from "certified payment specialists."
Sending payment requests. LawPay has a feature called Quick Bill, which sends payment requests to clients. Clients can pay online, and the software tracks who has seen your requests, as well as who has paid or not paid.
Tracking payments. You can schedule payments in advance and make refunds. You can also customize the dashboard to run reports to manage your cash flow. When someone completes a Quick Bill, you get notified through email.
Integrations. Integrates with more than 30 popular law-firm management software packages, such as Clio, FindLaw, Juris, Smokeball and Thomson Reuters. Tabs3 Software is a featured partner.
IOLTA accounts. LawPay doesn't debit Interest on Lawyer Trust Accounts, or IOLTAs, which are accounts lawyers use to hold client funds.
Reporting. LawPay reports show data for the past 30, 90 or 365 days, as well as month-to-date and year-to-date information.
LawPay is best suited for business owners who:
Want to process card payments and eChecks.

Also want a QR code that customers can use to pay invoices.

Need good integration with other software law firms use.
Stripe
Pros: Stripe accepts a wide range of currencies (over 135), and it has several tools to help small businesses create customized checkout experiences. It offers 24/7 live chat and phone support, as well as email and chat support.
Cons: If you're not a tech-savvy business owner, you may have trouble using Stripe's application programming interface, or API, and tools. Also, Stripe has a variety of products — each with its own fees, integrations and customization capabilities — which may overwhelm time-constrained small-business shoppers.
Square
Pros: Square charges the same fee for in-person card transactions regardless of which card the customer uses, and there are no monthly fees. Some prices are listed on the site, and Square has a handy calculator on its website that can help you estimate what your business will pay. Also, Square has an online knowledge base and community. You can get support through email (with a possible two-day turnaround), chat and Twitter. There is phone support, though the company makes no promises of speedy results.
Cons: Firms that have more than $250,000 in card transactions per year don't necessarily get the same rates as everyone else. They have to call and get a quote. Also, Square supports card payments in relatively few countries, which could be a problem for firms doing business overseas.
PayPal
Pros: Owners who want something simple to set up may appreciate PayPal Payments Standard, as it's specifically designed to make integration simple for nonprogrammers. Also, PayPal accepts about two dozen currencies and offers phone support from 8 a.m. to 8 p.m. Central time, Monday through Friday. It also has text support, an online community and a resolution center for transaction or account issues.
Cons: PayPal can be more expensive than Stripe or Square on a per-transaction basis. Firms keen on detailed customization might find PayPal's copy-and-paste approach to integration a detraction.
The Standard version of Stripe Connect has no platform-specific fees, but a custom version starts at $2 per account per month.

PayPal Payments Standard has no monthly fee.

PayPal Payments Pro is $30 per month.

Square does not charge monthly fees.

Stripe charges 2.9% plus 30 cents for each online transaction.

Stripe Connect charges 0.25% on payout volume and 25 cents per payout.

ACH direct debits cost 0.8% with a $5 cap.

International transactions in other currencies have different fees.

PayPal charges 2.99% plus 49 cents per transaction if the funds are from a U.S. account. Nonprofit organizations get a discounted rate.

For American Express cards, the transaction fee is 3.5%.

International transactions in other currencies have different fees.

In-person payments using the Square POS: 2.6% plus 10 cents for all card types.

Online or phone payments: 3.5% plus 15 cents per transaction.

These rates are for businesses that process less than $250,000 per year and have an average ticket size under $15. If your business is larger, Square will do custom pricing. Note that sometimes the custom rates are more than 2.6% plus 10 cents.

There's a 1% upcharge for international cards and a 1% upcharge if currency conversion is required.

Disputed charges incur a $15 fee.

Small businesses can also design custom packages. Rates vary depending on volume discounts, multiproduct discounts and country-specific rates. Pricing is also quote-based for the custom Connect plan.

Optional recurring billing services cost $10 per month.

Optional advanced Fraud Protection Services are $10 per month plus 5 cents per transaction.

Other fees, including chargeback fees and mobile card reader fees, are on PayPal's merchant fees page.

Online invoices cost 2.75% per invoice.

Appointment prepayments run 2.9% plus 30 cents.

Manually entered transactions are 3.5% plus 15 cents per transaction.