For many travelers, the most important aspects when booking a flight are cost and schedule. However, sometimes you may need to find specific fare class availability or want to book a particular flight or aircraft type. For those advanced searches, most online flight booking engines fall short. Thankfully, you can use a tool like ITA Matrix to do the job.
Here are the ideal situations in which to use ITA Matrix to find the exact flight you want — and how to buy the tickets once you do.
When ITA Matrix isn't the best search option
First, let's reiterate that ITA Matrix isn't right for every flight search. You can use a flight search engine such as Google Flights for most flight searches. Many search filters and flight options that were previously only found in ITA Matrix are now available on Google Flights. That means you can stick to using Google Flights if you're looking to filter flight searches by:
Departure and/or arrival times.

Layover duration (minimum and/or maximum).
Even better, Google Flights will let you factor in the price of carry-on and checked bags. That's not an option you'll find on ITA Matrix.
When ITA Matrix is the best tool to search for flights
Flying a particular aircraft type
ITA Matrix is a great tool to search for flights using a particular aircraft type. For example, you can limit search results to flights on Boeing 777 aircraft by entering extension code aircraft t:777.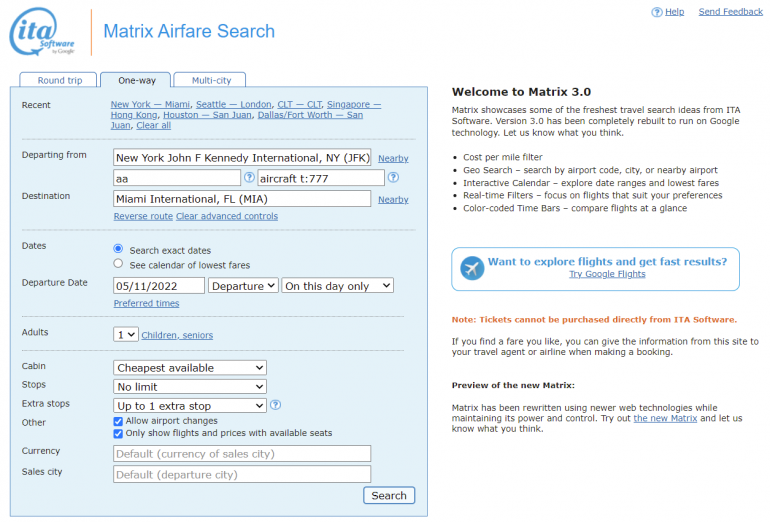 This filter can come in handy on a route like New York to Miami. American Airlines' 777 aircraft are configured for international flights, so every seat has an in-flight entertainment screen. In first class, you can catch a nap in a seat that reclines into a lie-flat bed. In either cabin, it's going to be a much better experience than the domestically-configured aircraft operating this route.
Or, perhaps you're an AvGeek and want to fly on an endangered aircraft like the Boeing 747 or Airbus A380. You can combine ITA Matrix's flexible route search with an aircraft filter to find the cheapest option to book and fly your white whale.
For example, you can search for Boeing 747 flights from New York City to just about anywhere in Europe by entering extension code aircraft t:747 and searching nearby airports within 1,000 miles of Zurich.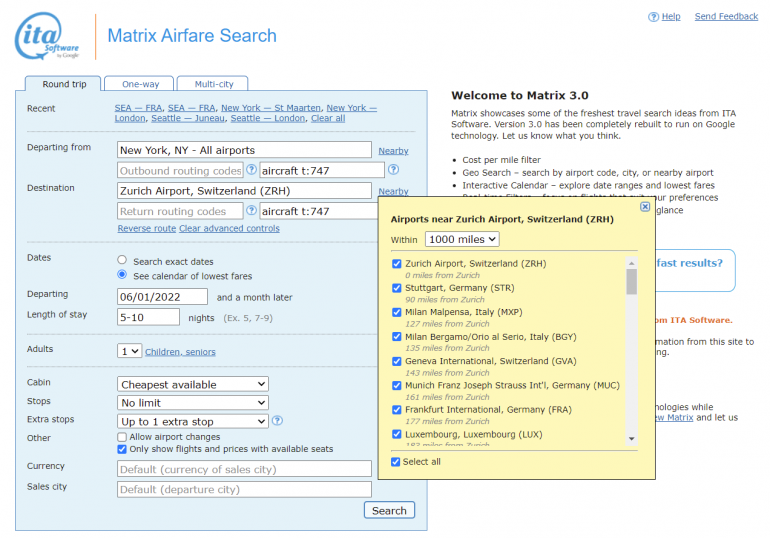 Japan Airlines is one of only a few airlines that opted to install just eight seats per row (instead of nine) on its 787 Dreamliners. When you add in the excellent onboard service, it's worth seeking a Japan Airlines Dreamliner for flights to Japan. To see which routes Japan Airlines is using its 787 on:
Enter potential departure or connection airports in the origin airport box.

Enter TYO in the arrival airport box to search both Tokyo airports.

In the routing code box, enter o:JL.

In the extension code box, enter aircraft t:787.

Enter your dates and click search.
Excluding a particular aircraft type
You can also use ITA Matrix to avoid a particular aircraft type. For example, you can avoid flying on a CRJ-200 aircraft by entering the extension code -aircraft t:CR2. Or, if you want to avoid all propeller planes, you can simply enter extension code -PROPS.
Booking a unique flight
Another time ITA Matrix can come in handy is when you're trying to book a unique flight, whether that's Alaska Airlines' Milk Run or United's Island Hopper. For these searches, you'll need to enter a specific flight number — or flight range — in the routing code box.
For example, say you want to find the cheapest date in June 2022 to fly a multi-stop flight on the Alaska Milk Run from Seattle to Juneau. To search through ITA Matrix:
Enter SEA as your origin and JNU as your destination.

Enter AS65,AS67 in the routing code box to limit searches to these Milk Run flights.

Select the "See calendar of lowest fares" option and enter 6/1/2022.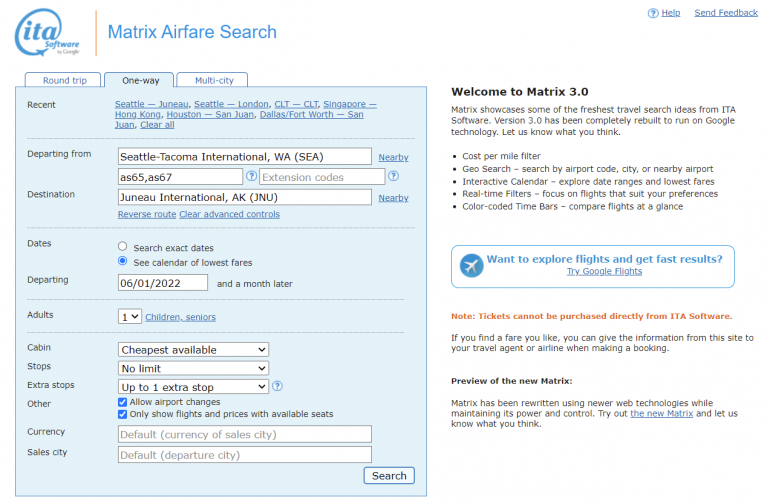 In this case, the calendar unveils that the cheapest rate is $199 one way. By selecting a date, you'll find the flight options for that date. For example, on June 14, 2022, Alaska flight 65 costs $199 and Alaska flight 67 costs $249 one way.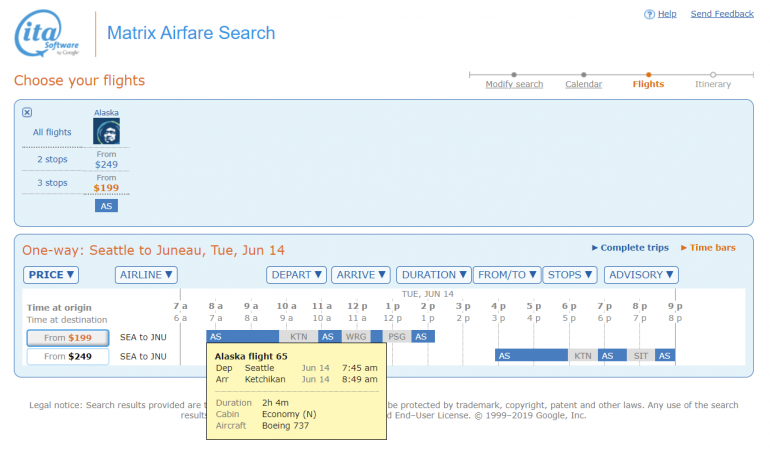 Searching specific fare class availability
To book JetBlue Mint awards through Emirates, JetBlue needs to release "i" fare class space. That means you'll need to enter the routing code o:B6 [operated by JetBlue] and the extension code f bc=i [searching only for the "i" fare class] to search for JetBlue Mint award availability.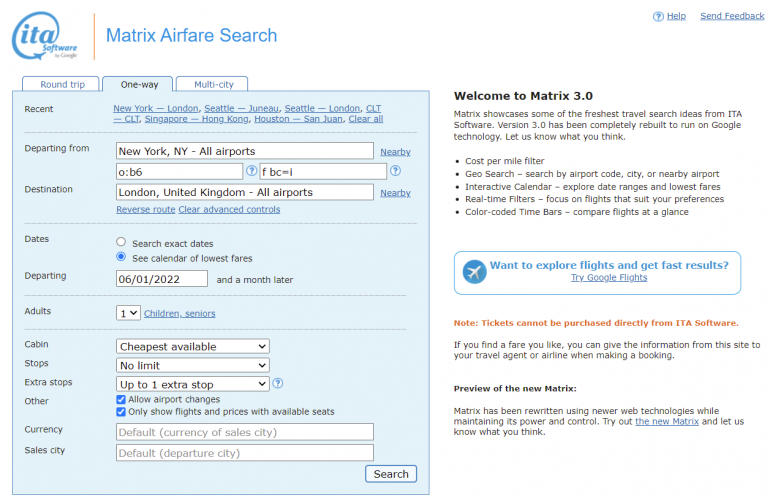 You can ignore the prices on the results page. Instead, focus on which dates have a price listed, as that will indicate that there is an I-fare class available on that date. While the calendar results will show two calendar months, keep in mind that ITA Matrix only searches one month from the date entered. You'll need to enter 7/1/2022 to search the month of July 2022.
ITA Matrix also helps make it easy to search a range of destinations. Say you want to fly JetBlue Mint to somewhere in the Caribbean on May 7, 2022. Enter an airport code in the general region — like St. Maarten — and use the nearby airport option to expand your search to any airport within 500 miles.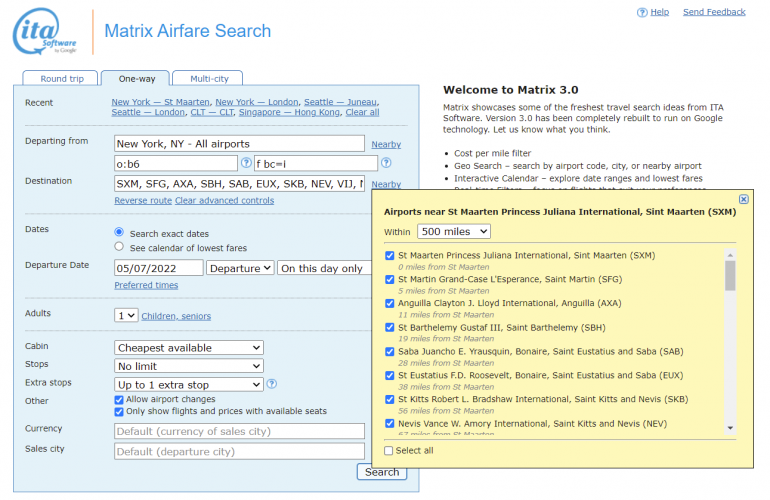 By searching through ITA Matrix like this, you'll find that St. Maarten isn't available on that date. But, you can book a JetBlue Mint award to St. Thomas or Barbados.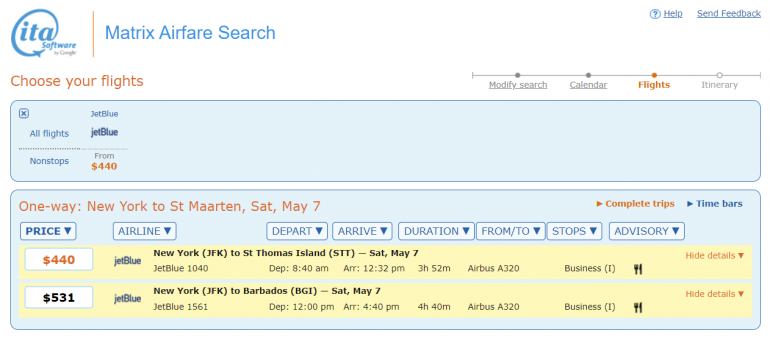 Then, you can search for that specific award flight by logging into your Skywards account through the Emirates website.
Boosting your mileage and elite status earnings
Searching for specific fare classes can also come in handy when booking flights for award mileage or elite status credits. For example, American Airlines flights credit to Alaska's Mileage Plan program based on the fare class you book and the distance of the flight. And there can be a big difference in earnings between different fare classes.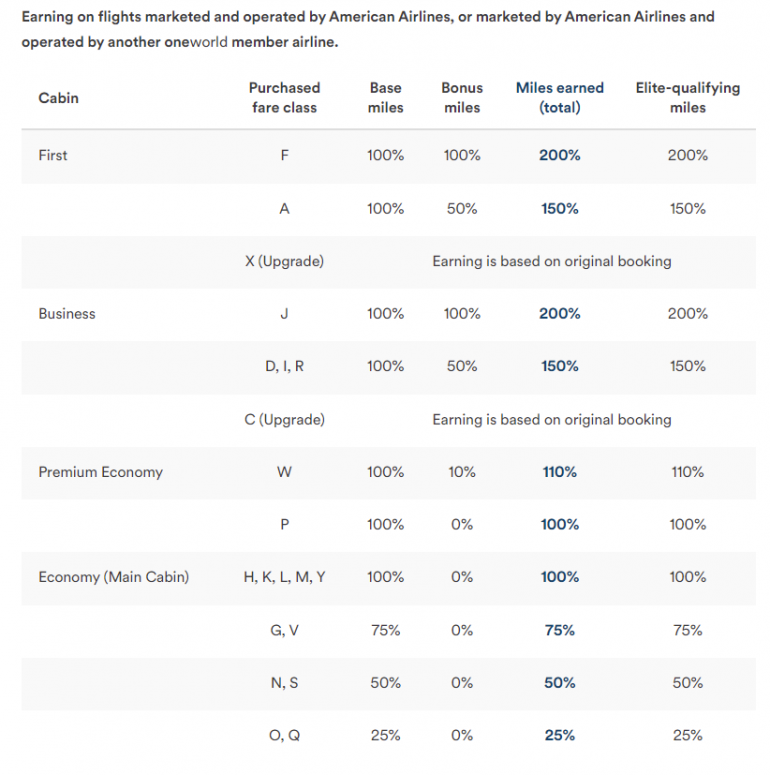 Perhaps booking the cheapest AA flight would leave your accumulated elite earnings just shy of earning the next tier of Alaska Mileage Plan elite status. In a case like that, it could be worth checking how much you'd need to pay for a higher fare class.
For example, in February 2022, the cheapest American Airlines fares between Seattle and Miami cost $160 round trip. Since these flights book into the "Q" and "O" fare classes, you'll earn 1,362 Alaska miles (25% of the flight distance) and elite status credits from the round-trip flight.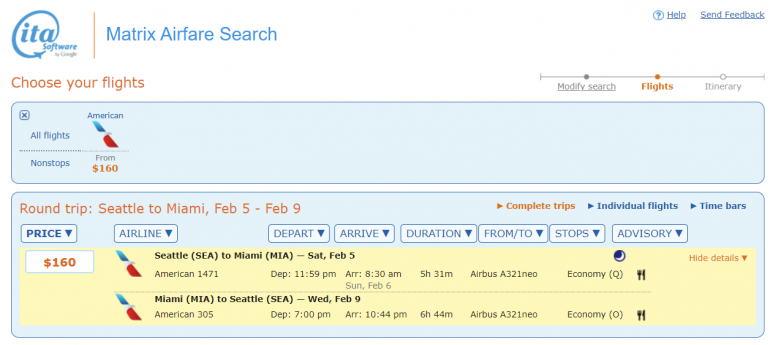 Upgrading to the "N" fare class costs $83 more. However, the "N" fare class earns 50% of flight miles instead of 25%. That means you'll earn double the award miles and elite-qualifying miles. If you're hoping to top off your elite status earnings fast, up-faring your flight might make sense — rather than trying to fly another roundtrip Q or O fare class flight.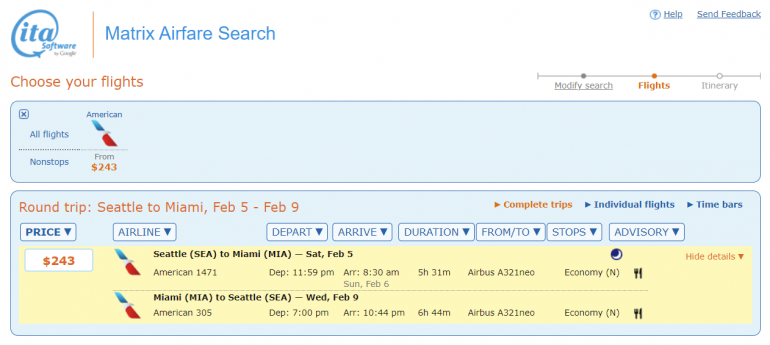 Connecting through a particular airport (or not)
Another way you can limit flight options is by the connecting airport. For example, if you want to check out the new Capital One lounge in Dallas-Fort Worth, enter DFW in the routing codes box. You can even throw in MINCONNECT 3:00 to the extension codes box to make sure that your layover is at least 3 hours long, giving you time to really explore and enjoy the lounge.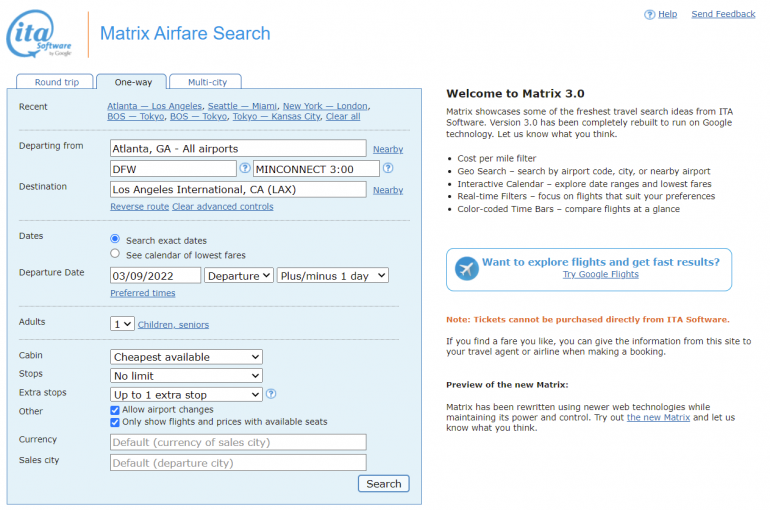 On the other hand, if you don't like a particular airport, you can use ITA Matrix to find flights that avoid it. For example, you can avoid flying through Chicago-O'Hare by entering routing code ~ORD.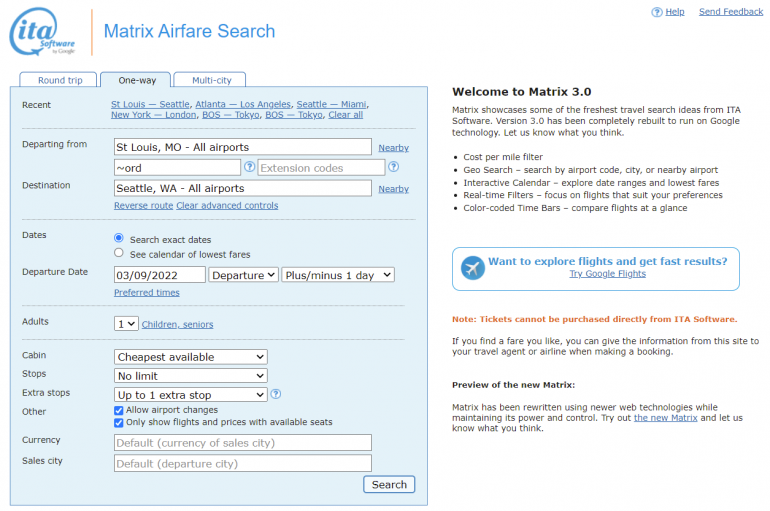 Combining ITA Matrix codes
To do an intricate flight search, combine different codes. For routing codes, use commas to indicate preferred options. For example, entering routing codes AA, UA limits your search to only flights operated by American or United.
To combine extension codes, you generally need to enter a semicolon between the entries. For example, to search for a Japan Airlines-operated flight using a Boeing 787 aircraft and excluding codeshares, enter routing code o:JL and extension code aircraft t:787; nocodeshares.
When you want to narrow down a search based on multiple options, the symbol you use to connect those options varies from one use case to another. For example, to search for flights booked into one of several fare types, enter a vertical bar between the options: f bc=S|bc=N. To search for a range of aircraft types, just leave a space between options: aircraft t:787 t:777 t:767.
How to book flights found through ITA Matrix
ITA Matrix can be a handy tool for finding flight options. However, it has a significant limitation: You can't book flights directly through ITA Matrix. That means ITA Matrix users need to recreate their search through an online flight search engine or on an airline's website to book the flight(s) they want.
Thankfully, there's a trick for those who want to book a specific itinerary found through ITA Matrix. Book With Matrix lets you copy-paste your ITA Matrix itinerary into its website to generate a booking link for that exact itinerary.
For some Book With Matrix search results, you can opt to book directly through the airline. That's very helpful when using a credit card like The Platinum Card® from American Express — which requires you to book directly through an airline to earn 5 points per dollar spent on airfare. Terms apply.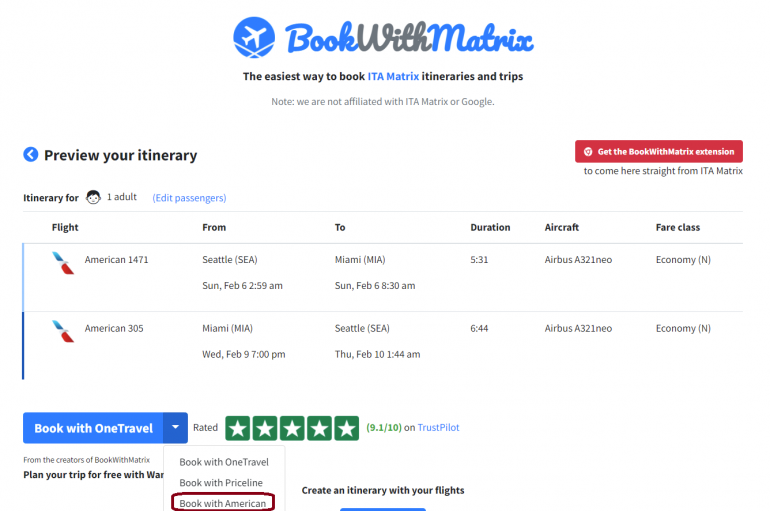 Final thoughts on searching for flights with ITA Matrix
ITA Matrix is an incredibly powerful flight search tool. You can use filters to limit by airline, flight numbers, aircraft type, airport, fare class and so much more that it wouldn't fit in this short guide. However, ITA Matrix is a tool for intermediate to advanced travelers looking to book specific flights. For most travelers, a flight search tool such as Google Flights will be the best option for searching and booking flights.
How to maximize your rewards