Today, Alaska Airlines unveiled a new subscription option, Flight Pass. The program offers travelers in Arizona, California and Nevada a pre-paid service to jet between the states on the cheap. With different membership levels, the monthly subscription plan makes many of the airline's nonstop flights available for only a penny plus taxes. This doesn't include all flights though.
In many cases, especially for regional business travelers, the pass could help save quite a bit of money. Leisure travelers, with lots of flexibility and plenty of wanderlust, may love it, too. But, you'll want to make sure that the math works in your favor before committing to one of the annual plans.
Is the Alaska flight pass even a good deal for your travel needs? Let's get into the details so you can decide.
How does Flight Pass work?
An overview
Basically, it's the latest evolution of the subscription pricing model, applied this time to airfare for 6+ round-trip regional flights annually.
Once you sign up for a Flight Pass, round-trip flight credit(s) post to your account based on your subscription level. Travelers can then book select flights for one cent a piece plus $14.60 in taxes and fees.
One-way tickets aren't available for subscribers, and not all flights are available for the one cent price (presumably, the most popular flights at opportune times will cost more). Alaska says that most flights will be available at the penny-per-flight rate for flight pass subscribers.
Credits must be used each month, but you can travel any time within the next 90 days. You can also make changes to your flights if needed. Subscriptions are only available in one-year allotments.
Destinations
The Alaska Flight Pass is only available on nonstop flights within or between Arizona, California and Nevada. There are 16 cities and airports serviced by Flight Pass.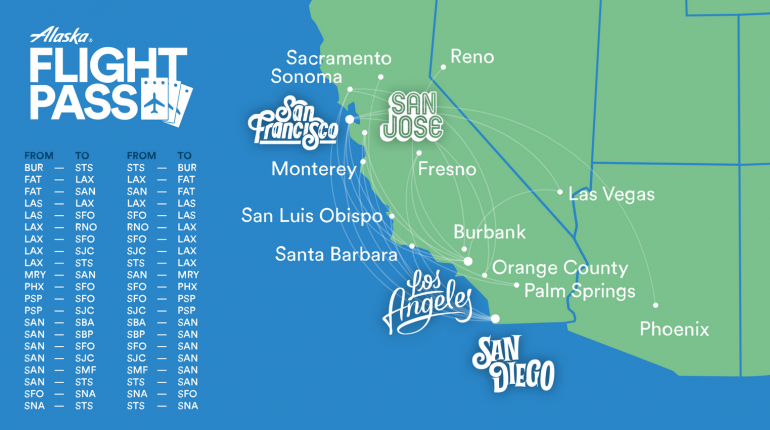 The following is a list of eligible destinations, broken down by state.
You'll want to study the route map of available flights to make sure the flights fit your needed travel itineraries. Keep in mind that airlines sometimes change the frequency of flights or only operate on certain days of the week.
Subscription options
There are several options to purchase a subscription pass. The lower tier is called Flight Pass, whereas the more expensive option is called Flight Pass Pro.
Flight Pass
The Flight Pass membership level requires 14-day advance purchase bookings. Members can choose to fly every other month, monthly or twice monthly.
The cost of a Flight Pass (without taxes) are as follows:
$49 per month (1 round-trip flight every 2 months, 6 per year).

$99 per month (1 round-trip flight monthly, 12 per year).

$189 per month (2 round-trip flights monthly, 24 per year).
Flight Pass Pro
The Flight Pass Pro membership level is more expensive, but it comes with the flexibility to book up to 2 hours prior to same-day departure. Last-minute travelers, like those who fly frequently for business, will prefer this option.
Similar to the Flight Pass level, members can opt to fly every other month, monthly or twice monthly.
The cost of the Flight Pass Pro membership (without taxes) is:
$199 per month (1 round-trip flight every 2 months).

$399 per month (1 round-trip flight monthly).

$749 per month (2 round-trip flights monthly).
For Mileage Plan members
Elite members in Alaska Airlines' Mileage Plan program can enjoy their benefits while flying with a Flight Pass. For instance, flights are eligible for complimentary, space-available upgrades for elite members, and members have the option to pay for a premium seat (or select a main cabin seat for free).
Mileage Plan members will earn one mile for every mile flown, plus any applicable elite status bonuses. If you use the Alaska Airlines Visa Signature® credit card to pay for the subscription, you'll earn 3x miles for the Flight Pass purchase in addition to one mile per mile flown.
So, is it a good deal?
Whether or not the Alaska Airlines Flight Pass is a good deal will vary by person depending on their individual travel patterns and needs.
Keep in mind that there are trade offs — especially in terms of flexibility — that can't be captured in our math. More on how to think through and calculate the downsides later.
Possible savings
Flight Pass
If you have the flexibility to book travel two weeks in advance and like to travel at least once every two months, the $49 Flight Pass monthly plan can be a good deal. At this level, you'll pay $127.22 for each of the six included round-trip regional flights. That works out to $763.32 each year ($63.61 monthly).
Depending on your city pairs, that can represent substantial savings. For instance, a flight  between San Diego and Santa Rosa costs $398 round-trip in the main cabin for a two-day trip.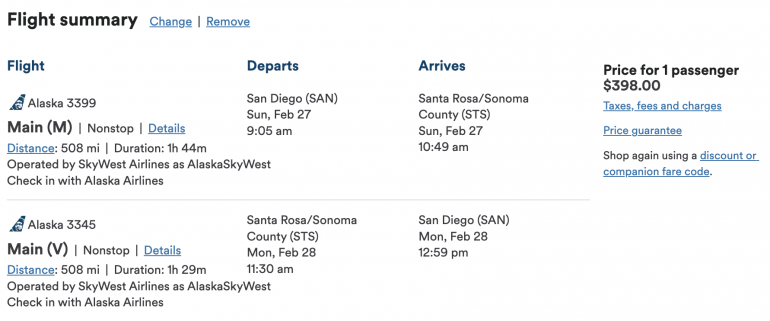 Paying just $127.22 for this same flight via your Flight Pass subscription represents some impressive savings.
Now let's look at San Francisco and Phoenix. A flight booked two weeks in advance between these two cities will cost you $158 for a basic economy seat, about $30 more than the price included in the Flight Pass. If you spring for the main cabin fare (which is the same fare class as what the Flight Pass offers), you'll be set back $217 out-of-pocket — a savings of nearly $100.
Scaled to six flights annually, and the Flight Pass for frequent travelers between these two destinations could save at least $180 and will enjoy the perks of flying main cabin over basic economy.
It's not all savings, though: It depends on the route. For example, flights between Los Angeles and Las Vegas on the dates we checked were only $103 total round-trip for a basic economy ticket. That's cheaper than the subscription price by nearly $25 for this flight.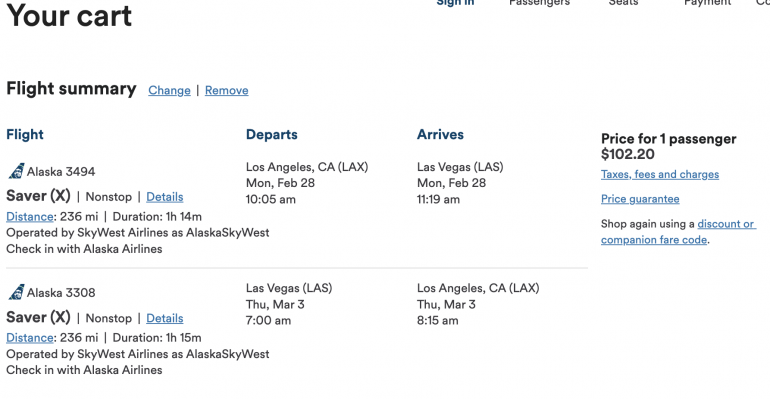 A main cabin fare for this route will run you $142 — about $15 more than the subscription flight price. With this in mind, it's up to the individual traveler to decide if full flexibility is a worthwhile trade off to paying monthly for savings that amount to less than $20.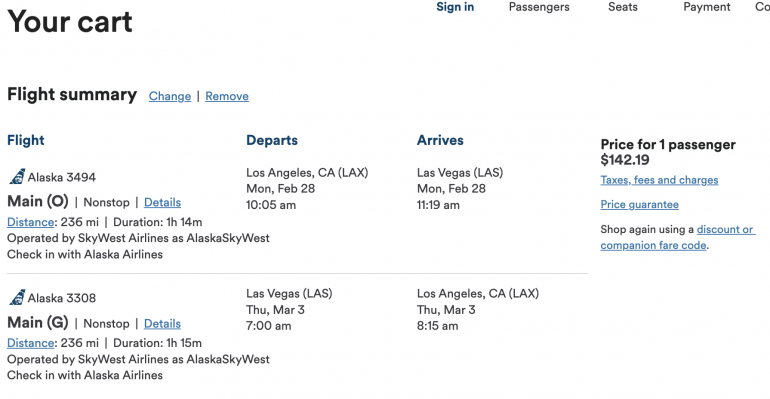 There are also multiple routes available on this day for travelers at that price point, not to mention multiple affordable routes across several airlines. We have yet to see how the availability of penny fares for subscription flyers will shake out, but if flexibility is important to you, being tied into a Flight Pass might feel too limiting.
Flight Pass Pro
On the other end of the scale, the pricier Flight Pass Pro plan might appeal to a smaller subset of  travelers. At this level, members pay $403.72 for each of the 24 included round-trip regional flights. That works out to $9,689.28 each year ($807.44 monthly).
A last-minute round-trip main cabin flight between San Diego and Monterey could cost travelers $598.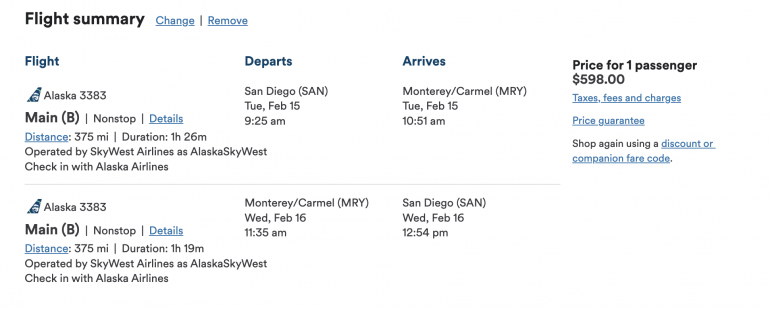 The $200 saved is a nice chunk of change. If you take that trip twice a month, Flight Pass Pro works considerably in your favor, but will probably be more popular with business travelers than vacationers looking for a deal.
If you don't mind being flexible with your flight times and could find yourself flying Alaska on these nonstop city pairs often at the last-minute, then a Pass could make sense.
Calculate the downsides, too
Subscribing to the Flight Pass at either level and frequency could make a smart money move for certain travelers. But there are considerable downsides to weigh, too — even if they aren't as visible in the rote math. For instance:
You're locked in for a year. Flight Pass has a mandatory term of 12 months from activation; it cannot be canceled and is nonrefundable.

Unknown actual fare costs. The airline is vague about how many of the eligible fares will actually be available to book for $0.01. This could spell inconvenient flight times for travelers, forcing you to pay a bit extra every time you book to fly at your preferred time of day.

Credits expire. Credits are deposited into your account monthly or bi-monthly (depending on your plan) and can expire. The expiration date for each credit is the date by which that credit must be redeemed to book a future ticket on Alaska Airlines; not the date by which a ticket must be flown. If a credit isn't redeemed prior to the expiration date, it's forfeited.

You can only fly Alaska. If you're a price sensitive traveler without loyalty to a specific airline, being tied to a single brand could mean sacrificing one-off savings by flying another airline. For instance, the Los Angeles to Las Vegas flight we looked at earlier cost less on JetBlue Airways, Delta Air Lines, American Airlines and United Airlines.

The psychological toll. Much like the pressure to maximize every travel credit card credit, having a Flight Pass subscription may put you in the position of feeling like you need to take unnecessary flights to get the full value.
If you don't live in one of those three states or are very specific about the flight times and dates you need to travel, then maybe the savings aren't worth the hassle.
Save money with Alaska Airlines flight subscription plans, maybe
The Flight Pass is appealing for travelers who want to lock in flight prices in advance (rather than being at the whims of the market when booking airfare). Since last-minute flights can be quite expensive, a guaranteed rate has its upsides, especially for business travelers.
But the reality is, airlines sometimes offer fare sales on last-minute bookings, making them rather cheap (and nixing the value-add of such a subscription program). What's more, most leisure travelers book travel several weeks — if not months — in advance. Booking earlier typically means better deals on airfare. This further diminishes the savings benefits and lessens the appeal of a monthly fee.
But the Alaska Flight Pass can be a good deal for certain frequent city pair travelers. Review your typical travel patterns to see if you're a good fit — or maybe even plan some new ones to explore more of the region. There are some great savings to be had for the right combos — all while working toward earning Alaska Airlines' elite status.
Even better, it could be a much-needed reminder to take a relaxing getaway every couple of months.
How to maximize your rewards