Austin, the capital of Texas, is a sprawling city — home to nearly a million people. Known as the live music capital of the world, there's good reason for you and your friends to spend a weekend here.
Whether you're looking for an easy trip out of town or a spot to have a special celebration like a bachelor or bachelorette party, Austin is a great location. Even better, there are plenty of ways to redeem your points and miles for bachelor and bachelorette parties in Austin, which makes the destination both exciting and affordable. Let's take a look.
Getting to Austin
Nearest airports
The main airport serving the Austin area is the Austin-Bergstrom International Airport (AUS). With two terminals and service from 18 different airlines, finding flights is simple.
Flying to Austin on points and miles
There's hot competition among airlines for travelers to and from Austin, with American Airlines, United, Delta and Southwest all vying for passengers. Southwest currently has the largest presence, followed by American Airlines, Delta Air Lines and United Airlines. Let's take a quick look at the three main players.
Southwest Airlines
Southwest ties the cost of its award flights directly to the cash value of your ticket, which means you'll never find a "sweet spot" for flying here. However, finding a cheap ticket to Austin isn't unusual; a one-way ticket from New York City (LGA) to Austin (AUS), for example, can be had for as little as 4,230 points.
American Airlines
American Airlines operates on a fixed award chart, with flights starting at 7,500 miles one way. This isn't a great deal, but American Airlines also has something called Web Specials. These tickets offer discounted rates, though they do come with extra restrictions.
The restrictions may be worth it, however, as Web Special tickets can be far cheaper than average fares. For example, a Web Special ticket from New York (JFK) to Austin (AUS) will run you just 6,000 AAdvantage miles one way.
Delta Airlines
Unlike American Airlines, Delta doesn't publish an award chart. This is because Delta uses dynamic pricing for its award flights, so costs fluctuate according to demand.
The bad news is that if you're traveling during peak season, you'll end up paying more SkyMiles for your tickets. The good news is that during the low season, you can find some pretty cheap flights, like a one-way ticket from Atlanta (ATL) to Austin (AUS) for just 5,000 miles.
In-town transit
Austin Airport is very near downtown Austin — just 7.5 miles away, in fact. This makes it simple to either catch a rideshare or rent a car and get to the city; your journey will take less than 15 minutes by car.
Otherwise, Austin's Capital Metro runs a bus to downtown every 15 minutes, 7 days a week. The Route 20 bus costs $1.25 one way and takes about 35 minutes to reach downtown.
Best hotels in Austin for bachelor or bachelorette parties
Budget hotel options
How thrifty do you want to be? Austin has many hotels to choose from, though you'll find your least expensive options some distance away from downtown. The Hyatt Place Austin Airport is a good example of this. As a Category 1 hotel, you can book a room on as few as 3,500 points here on off-peak nights.
If you're really looking to save some money (and points), consider a room at Choice Hotels. While Choice Hotels aren't luxurious, Choice has the unique policy of charging you the same number of points for a suite as for a standard room.
Higher-end hotels
In Austin, you'll find a variety of options from every major hotel chain, including:
This covers everything from budget to high-end properties, such as the JW Marriott Austin.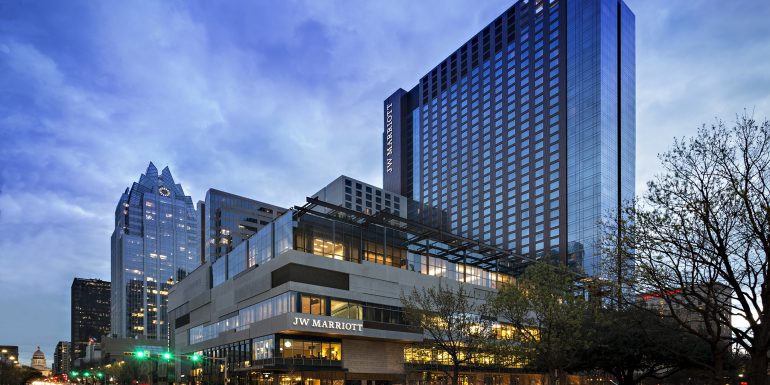 As a Category 6 hotel, you can redeem as few as 40,000 Marriott Bonvoy points for a night here during off-peak periods. But be aware: Marriott's award chart is disappearing in March 2022.
Other accommodation options
Of course, it's always possible to avoid booking hotels by using home-sharing services such as Airbnb or Vrbo. However, redeeming points for these stays is impossible unless you own a "purchase eraser" credit card like the Capital One Venture Rewards Credit Card, which allows you to redeem miles against any type of travel purchase.
Otherwise, consider Vacasa, the vacation rental platform that partners with Wyndham for award stays. Rates here cost 15,000 points per bedroom, per night. You can find some pretty decent deals on Vacasa's website, like a one-bedroom condo downtown that'll sleep 5 people.
Best bachelor/ette group activities in Austin
Ever wanted to party on a boat? Lake Austin is right in the city, and there are a handful of boat charters available. For example, for $150 an hour, Lake Austin Party Boat Rentals will rent you a 10-person boat complete with a cooler stocked with ice and bottled water.
Otherwise, consider a tour that stops by a few of Austin's many breweries. Tours like The Brew Bus will ferry you from one location to the next while simultaneously feeding and serenading you with live music. Does it get better than that?
And when it comes time for food, don't miss out on Better Half Coffee and Cocktails, the Austin cafe found all over "Best of" lists for its boozy weekend brunch.
Earning points on a bachelor/ette party
Don't forget these tips if you're looking to maximize the number of points you'll earn on your party:
Convince your friends to let you foot the bill on your credit card — and have them pay you back with cash.

Use a credit card that earns extra bonus points. This is the type of trip where a handful of different credit cards will net you the greatest rewards, so bring the ones with bonuses on restaurants, entertainment and travel.
The bottom line
Austin is a well-connected city with a variety of options for award travelers celebrating future unions. Whether you're looking to stay for cheap or splurge a little, you'll find plenty of choices in the lively Texas capital.
The information related to Citi Prestige® Card has been collected by NerdWallet and has not been reviewed or provided by the issuer or provider of this product or service.
How to maximize your rewards