Paying cash for hotels can get expensive quickly, especially when you're staying multiple nights. Fortunately, for World of Hyatt members, you can redeem rewards for as little as 5,000 points per night — even in major cities.
Let's take a look at how you can find some 5,000-point hotels to help make your next trip more affordable.
Take advantage of World of Hyatt's low-tier award category
Like other hotel chains, Hyatt operates on a fixed award chart for reward redemptions. This means that you'll pay a specific amount of points per night based on your hotel's category and room type. Award categories range from 1 to 8, and you can redeem points for standard rooms, club-level rooms or even suites.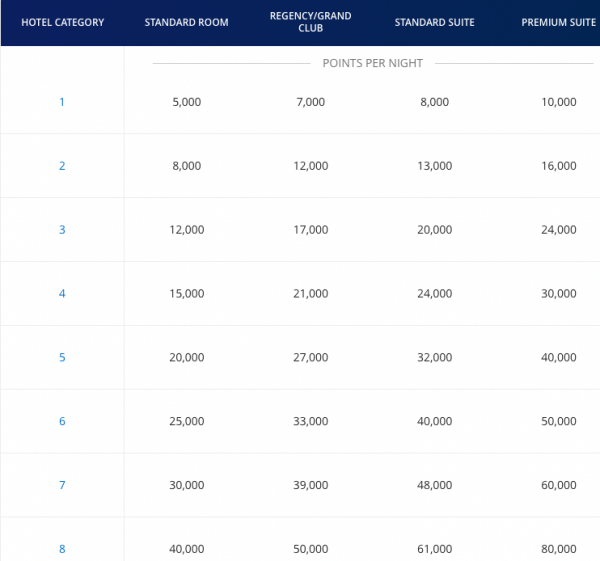 An exciting part about this award chart — and the focus of this article — lies within that Category 1 standard room: 5,000 World of Hyatt points per night for a hotel room is a great deal, especially when you can find over 140 of these properties in the U.S. alone.
Award charts can be particularly exciting for points and miles nerds, as these make way for sweet spots, where travelers can get outsized value for their points relative to the cash value. There are several Hyatt sweet spots to keep your eye out for.
Here's how it works
Redeeming a 5,000-point hotel stay is usually worth it as you may get more value per point than for other stays. Although Category 1 hotels in the U.S. tend to be limited-service properties, such as Hyatt Place or Hyatt House, you can still save hundreds of dollars per night versus paying with cash.

As a Category 1 hotel, that same room would instead cost 5,000 Hyatt points.

At this rate, you're redeeming your points at a value of 5.3 cents each, almost triple our valuation of 1.9 cents per point.

Even with five guests, you'll still pay 5,000 points for a standard room award night, making this especially valuable for families or other groups.

Another upside for your travel budget: Most Hyatt House and Hyatt Place hotels offer complimentary breakfast, which can save even more money, especially in pricey cities.
How to search for 5,000-point hotel stays on Hyatt.com
If you've already got a location in mind, it's easy to find a Hyatt hotel using Hyatt's website. You'll just need to enter the desired city and dates of travel to start a search. However, if your travel plans are a little more flexible, or you're specifically wanting to find a place with a Category 1 hotel, searching can get a little more complex.
Hyatt offers a robust search tool on its site. From the main page, click the "Hotels & Resorts" tab in the upper toolbar.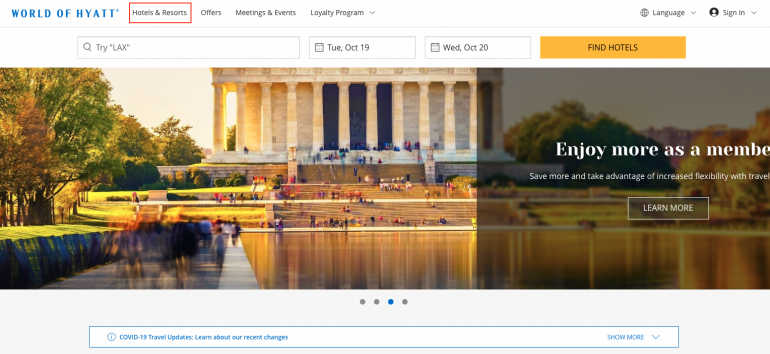 Once there, you can select the filters button in the upper right corner of the page: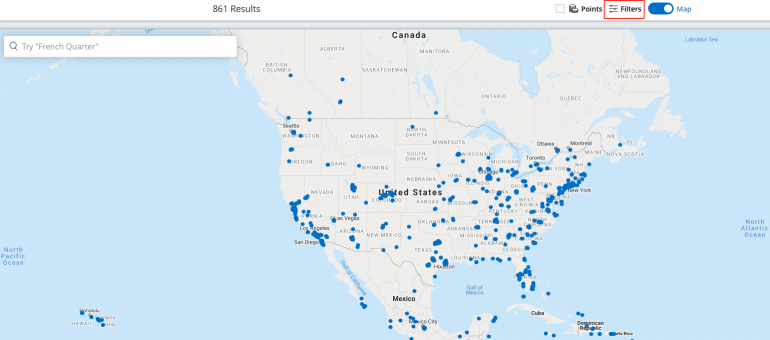 This will display filters you can use to search for hotels, including category levels. To find Hyatt's 5,000-point hotels, select option 1 (from 3,500 points/night).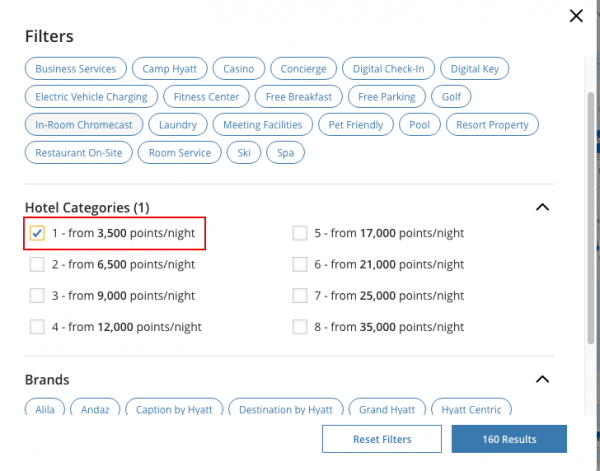 Hyatt's website includes pricing for off-peak, standard and peak rates, but the off-peak and peak rates don't take effect unless the booking is made for a stay in March 2022 or later. Through February and for stays before March, all bookings will be priced as standard rates. After March 1, an off-peak rate for a Category 1 standard room will be 3,500 points.
Once you've selected your category, you'll be presented with a map showing all of the different Category 1 locations. It's interactive, so you can zoom and drag it to wherever you'd like.
Booking directly on the Hyatt site versus an online travel portal
These are great rates compared with cash prices, but they become even more compelling when you compare World of Hyatt redemption rates with the rate of booking through an online travel portal.
Let's consider the Chase Ultimate Rewards® program, whose points transfer directly to Hyatt at a 1:1 ratio. But rather than transferring your Chase points, you opt to book your Hyatt stay directly via the Chase travel portal. The value you'll get for your points depends on which card you hold (the Chase Sapphire Preferred® Card provides a value of 1.25 cents per point, while the Chase Sapphire Reserve® will give you 1.5 cents per point).
When searching through the Chase travel portal for the same stay at the Hyatt Place Austin Airport, the cash price is the same as if it were booked directly through Hyatt, roughly $268. With the Chase Sapphire Reserve®, since points are valued at 1.5 cents each, you'll need to redeem 17,862 Chase Ultimate Rewards® points for this night.
However, you would only need to transfer 5,000 Ultimate Rewards® points to Hyatt in order to make the same booking with less points.
In this case, it's a significantly better deal to transfer your Chase points to Hyatt rather than book in the Chase travel portal. You might even consider moving points from other transfer partners to the World of Hyatt to secure these deals.
Another downside of redeeming stays via a third-party booking site like the Chase travel portal? You won't receive any elite benefits or elite night credits for your stay. This means that if you have Globalist status, Hyatt's top-tier elite status, you won't receive perks like free breakfast, upgraded rooms or guaranteed late check-out.
How to earn Hyatt points
Even if you don't stay at Hyatt properties often, it's easy to earn Hyatt points. This is thanks to the robust partnership with Chase and a couple of co-branded Hyatt credit cards:
Chase Ultimate Rewards® transfer to Hyatt at a 1:1 ratio.

The World of Hyatt Credit Card comes with a welcome offer of up to 60,000 bonus points. Earn 30,000 Bonus Points after you spend $3,000 on purchases in your first 3 months from account opening. Plus, up to 30,000 More Bonus Points by earning 2 Bonus Points total per $1 spent in the first 6 months from account opening on purchases that normally earn 1 Bonus Point, on up to $15,000 spent.

The newly launched World of Hyatt Business card offers 75,000 bonus points after spending $7,500 in the first 3 months of account ownership.
If you want to stay in a major city for 5,000 points per night
Staying near the action doesn't have to be expensive. Although hotels in larger cities tend to be on the pricier side, you can find many low-cost redemption rates with Category 1 Hyatt hotels. Bookable for just 5,000 points per night, these hotels offer reliable accommodations all while saving you points and cash.
How to maximize your rewards