Years ago, airline loyalty programs published fixed award charts and members could easily accumulate miles toward a fixed goal — whether that was a free flight to Hawaii or to Europe.
Nowadays, award flight pricing is far less predictable. Every major U.S. airline now prices award flights within a range of published award rates, dynamically based on expected demand or completely based on the cash cost of the flight. A growing number of airlines have even eliminated award charts entirely.
How many miles you need for a free flight is going to depend on the airline and which aspects it factors into award pricing. Let's dig into each airline's current award pricing policies so you can know how many miles you may need for your next award flight.
If you're looking for info on a specific airline, feel free to jump ahead:
American Airlines
American Airlines is one of the few U.S. airline loyalty programs that still publishes an award chart. However, American rarely sticks to these published award rates. Instead, it has implemented a dynamic award pricing system through the use of Web Special awards.
If your dates are flexible and you don't mind making a stop, you can currently book an American Airlines award flight for as few as 6,000 AAdvantage miles each way. However, if you want to fly nonstop, be prepared to pay a lot more miles.
Award prices can climb way off the award chart to book a business or first class award on a popular international route. For example, American's award chart prices business class awards between the U.S. and the South Pacific between 80,000 and 195,000 miles. However, American Airlines currently charges as much as 375,000 miles each way to book a nonstop business class award from Los Angeles to Sydney: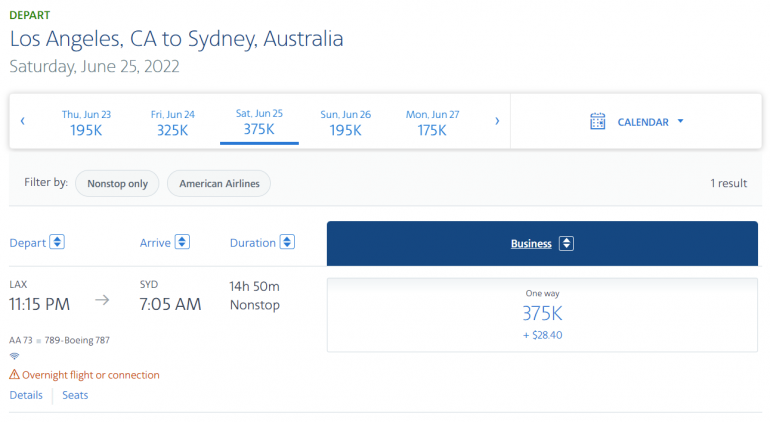 Delta Air Lines
For routes where Delta wants to compete, you can find surprisingly low award rates. For example, flights between Seattle and San Francisco cost as few as 2,500 SkyMiles each way. Even first class awards from Seattle to Cancun can price as low as 10,000 SkyMiles one-way.
As with American, award rates can quickly climb into the six digits, especially for nonstop and premium cabin awards. For example, Delta regularly charges 320,000 SkyMiles one-way to book a nonstop flight between Atlanta and Rome in Delta One business class.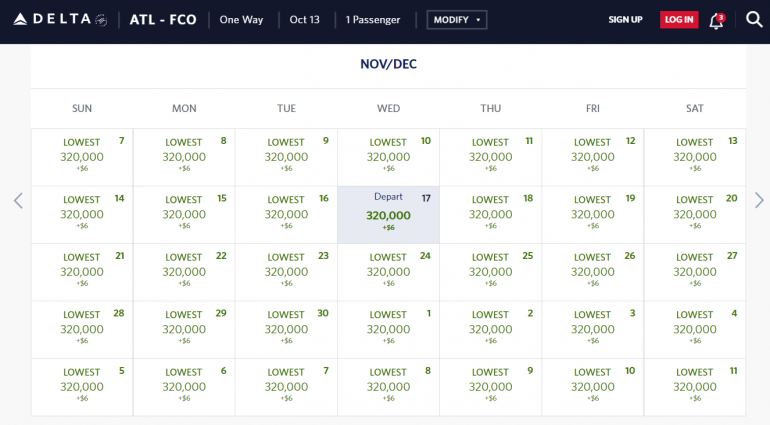 United Airlines
Like Delta, United Airlines no longer publishes an award chart. However, United generally offers much more predictable award pricing, for better and worse.
United award prices generally mirror the old award chart. For example, United award flights to Europe generally cost 30,000 miles each way in economy, 45,000 miles in premium economy or 60,000 miles in business class: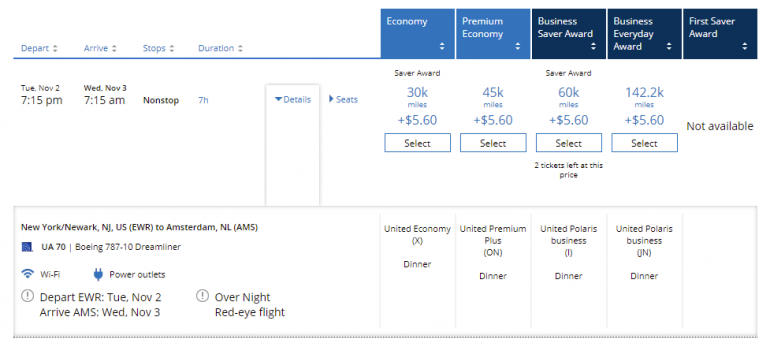 However, now that United doesn't publish an award chart, the airline is free to offer much-cheaper awards. For example, as of the time of writing, you can book an award between Newark and West Palm Beach for just 5,000 miles each way or fly from Los Angeles and Honolulu, Hawaii for just 9,500 miles each way.
However, you'll want to book in advance. United generally charges a mileage surcharge for awards booked within 21 days of departure. Last-minute awards booked within 7 days of departure can price even higher.
Southwest Airlines
Southwest uses a fare-based award pricing model. To calculate how many points you need for a free flight on Southwest, multiply the base fare for a cash flight by 81-83 points.
For example, a $39 one-way intra-Hawaii fare with a base fare of $27 requires just 2,240 points plus a $5.60 security fee. But, if you can find a flight with lower base fare, it would require even fewer points to book.
Alaska Airlines
Compared to other U.S.-based mileage programs, how many miles you need for a free flight on Alaska Airlines is a bit more predictable. Alaska Mileage Plan uses an award chart for award flights.
For domestic flights (excluding Hawaii) and flights to Canada, Alaska's award pricing depends on how far and in which cabin you fly. However, within each distance band, award prices can vary significantly.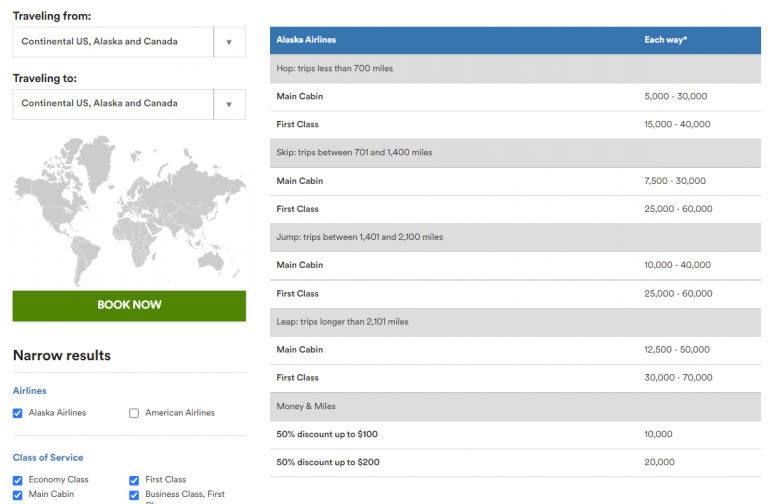 Award flights under 700 miles in distance start at just 5,000 miles each way. On peak award dates, awards can cost as much as 30,000 miles for the same route.
Coast-to-coast award flights price as low as 12,500 Mileage Plan miles each way in economy or 30,000 miles in first class.
Alaska publishes a separate award chart for flights to Hawaii. Economy awards range between 15,000 and 50,000 miles, and first class awards vary between 40,000 and 80,000 miles each way. Even long journeys from the U.S. East Coast to Hawaii can cost just 20,000 miles one-way.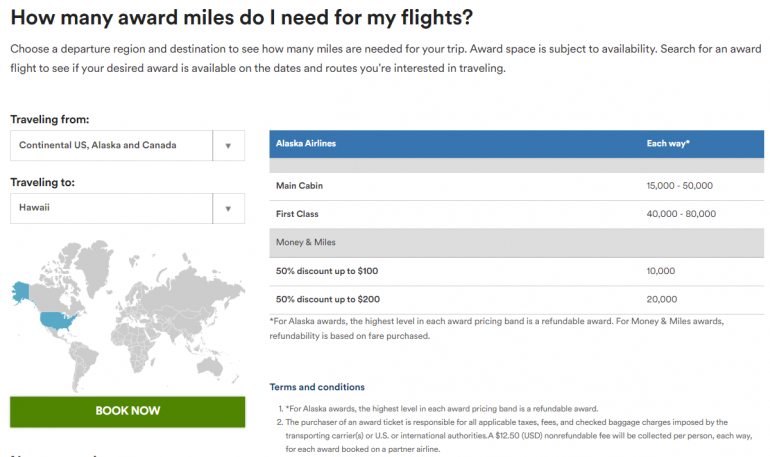 JetBlue
JetBlue uses variable award pricing that's tied to the cash price of the ticket. As with Southwest, that means that there's no limit to how cheap JetBlue award flights can go. We've even seen JetBlue price awards as low as 400 TrueBlue points one-way during a recent flash sale. However, you'll typically need to pay at least 2,800 points for the cheapest fares.
The downside of revenue-based pricing is that awards are very expensive when cash prices are very expensive. For example, during high-demand times, JetBlue's Mint business class can cost over 169,000 TrueBlue points each way.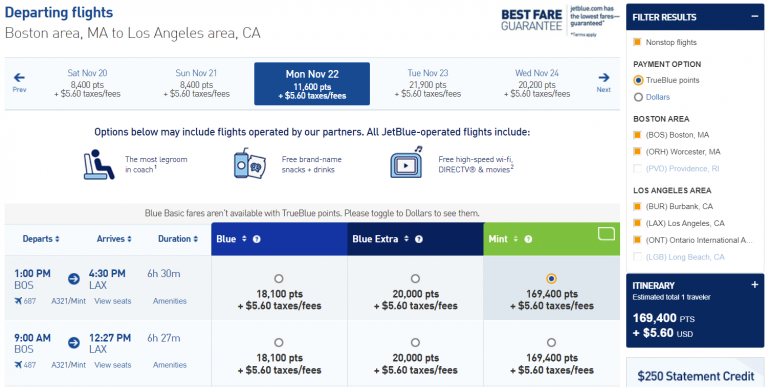 Hawaiian Airlines
Like Alaska Airlines, Hawaiian Airlines publishes an award chart with a range of prices. How many miles you need for a free flight on Hawaiian depends on your origin and destination regions.
Not surprisingly, the cheapest Hawaiian Airlines flights are between Hawaiian islands. These awards start at just 7,500 miles in economy or 15,000 miles in first class. But, on some flights, you may need to pay up to 20,000 miles for economy or 30,000 miles for first class.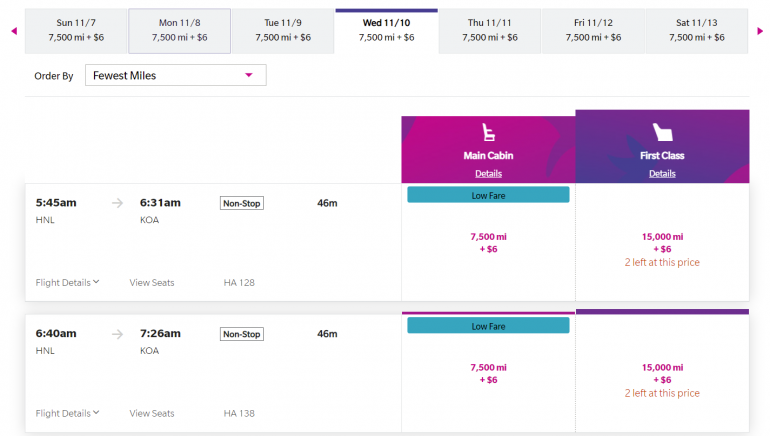 Flights between Hawaii and the mainland start at 20,000 miles each way. However, awards can climb as high as 90,000 miles each way for West Coast flights and up to 130,000 miles each way for East Coast flights.
There are even a few ways you can save extra points. You can gain access to exclusive discounted flights if you are a:
Hawaiian Airlines Pualani Platinum elite member.

Hawaiian Airlines Pualani Gold elite member.
Premier Club member.

Hawaiian Airlines® Business Mastercard® cardholder.
For example, from the mainland West Coast to Hawaii, general HawaiianMiles members need to pay at least 20,000 miles. However, eligible elite members and credit cardholders pay just 17,500 miles.
Which program offers the best award rates
Now that we've done an overview of how each airline prices award flights, let's compare award rates on three of the most-popular domestic U.S. routes. To compare last-minute rates vs. advanced-purchase rates, we pulled award rates for flights booked 3, 30 and 90 days to departure.
To do an apples-to-apples comparison, we are only comparing nonstop flights on these routes. For airlines that have multiple flights per day, we're using the cheapest award price of the day. Airlines that don't operate the route aren't included in the comparison.
First, let's compare prices for award flights from New York to Los Angeles:
Next, here's how many miles you'll need for a free flight from Los Angeles to Honolulu:
Finally, let's compare award rates on flights from Chicago to New York:
How to maximize your rewards