With 18 brands located in over 100 countries, the Best Western Hotels & Resorts group is a worldwide name. Even if you're an infrequent traveler, you've likely seen one or two of these around your town. Like many other hotel chains, Best Western offers a loyalty program designed to reward frequent customers.
How Best Western elite status works, how to earn it and what it'll give you are all important factors to consider when traveling. We break down all the details of this hotel's elite status program.
How Best Western's elite status works
Like most hotel loyalty programs, Best Western elite status can be earned one of three ways:
Once you've met the threshold for each level of status, you'll be automatically bumped up to that new tier.
Each paid night that you stay at a Best Western hotel, you'll also earn bonus points that can be used toward award redemptions.
Best Western elite status tiers
There are a total of five different tiers of Best Western elite status. The most basic, Blue, has no requirements; this is the level you'll receive when you sign up for the program. The highest tier, Diamond Select, normally requires you to earn at least 50 nights, 40 stays or 50,000 bonus points.
Each tier offers members special benefits such as:
An exclusive reservation line.

Early check-in and late checkout.

No blackout dates on reservations.

Bonus points on eligible stays.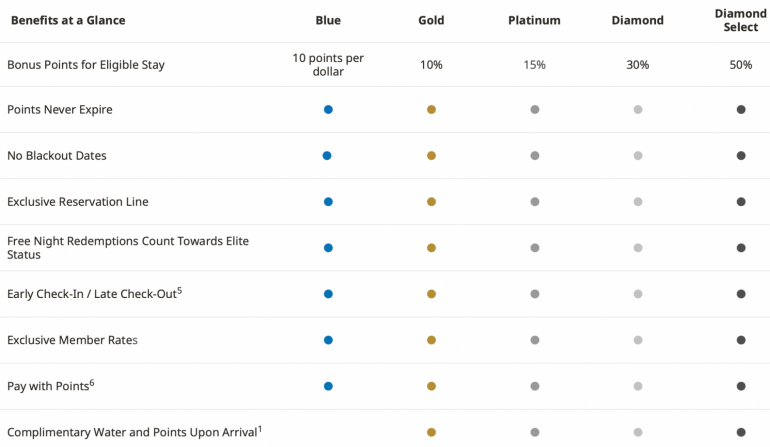 How to earn Best Western elite status
Due to the ongoing uncertainty surrounding travel, Best Western has halved the requirements to earn elite status in 2022:
| | Standard qualification requirements | 2022 qualification requirements |
| --- | --- | --- |
| | | |
| | 10 nights, 7 stays or 10,000 points. | 5 nights, 3 stays or 5,000 points. |
| | 15 nights, 10 stays or 15,000 points. | 7 nights, 5 stays or 7,500 points. |
| | 30 nights, 20 stays or 30,000 points. | 15 nights, 10 stays or 15,000 points. |
| | 50 nights, 40 stays or 50,000 points. | 25 nights, 20 stays or 25,000 points. |
Is Best Western elite status worth it?
Although Best Western boasts a loyalty program like other hotels, in reality, the perks that it provides offer very little substantial value.
In a comprehensive analysis, we broke down the perks offered by each level of status, along with their value and cost to earn. From there, we determined the "elite earn rate" for each tier:
Even the best tiers receive very little in return for their spend; this is due in large part to the lack of tangible benefits such as suite upgrades, free breakfast and lounge access.
How much are Best Western points worth?
According to our valuations, Best Western points are worth 0.7 cent each. This value is pretty in line with other hotel competitors, and means that you should be looking to redeem your points for at least 0.7 cent in value on your award stays.
There aren't many sweet spots to be had when it comes to redeeming points with Best Western. This is because the cost of your room in points is directly tied to the cash cost of the hotel. Called "dynamic pricing," several other hotel and airline partners use this method for award redemptions.
Nerdy tip:
Most hotel chains have moved over to dynamic pricing, but the
World of Hyatt program
still maintains a semi-fixed award chart.
It's still possible to redeem your points for more than 0.7 cent each, but you'll never find yourself with outsize value like you could with other programs. A good rule for this program is to look for either 5,000-point properties — which is the base pricing for a room — or be flexible and search for high-cost, higher-end properties.
Status matching opportunities
Although Best Western elite status doesn't give you much, the ability to earn additional rewards points on all your stays is certainly worth matching for. Matching is easy thanks to Best Western's well-publicized Status Match…No Catch program, which will grant you up to Diamond Select status depending on your existing elite status with any other hotel loyalty program.
You'll need to provide the following information in order to receive the match:
Best Western Rewards member number.

Proof of Elite status in another hotel program; either a screenshot of your loyalty card or an account statement.
If you're in the United States, you'll email this information to [email protected] If you're a resident of Europe, you'll instead need to send your request to [email protected]
Unlike other status match or challenge programs, Best Western doesn't limit the number of times you can status match to its program. This means that as long as you hold elite status with another eligible hotel chain, you can have your status matched over to Best Western status too.
If you want Best Western's elite status benefits
It's true that the Best Western loyalty program doesn't do much for its members. Aside from free bottles of water and increased rewards points, there isn't much draw to becoming a Best Western elite member.
However, thanks to its easy status matching program, those with an upcoming stay and existing hotel elite status elsewhere can maximize the amount of points they'll earn on their travel.
How to maximize your rewards