Many will agree that Vancouver is one of the most beautiful cities on the North American West Coast. It draws visitors for its natural surroundings and lively city center, and as a departure point for many cruise ships. Whether you're visiting for work or pleasure or are simply passing through, these are seven of the best hotels in Vancouver to book with points and miles.
High-value hotels in Vancouver to book with points
When using hotel points, it's best to redeem them at hotels with higher cash rates so you can maximize their value. If the hotel price is affordable, you might as well pay in cash and save your points for when you can get the most value using them. It can be helpful to review NerdWallet's valuations of hotel and credit card points to determine if it's better to use points or pay in cash.
When it comes to top hotels in town, these are some of the highest-value properties in Vancouver where you can take advantage of the savings your points can bring.
Budget stays
Holiday Inn Vancouver-Centre
For those looking for a comfortable property without a lot of bells and whistles, this hotel fits the bill. It's conveniently located near the cruise ship terminal, and only two blocks from the Canada Line SkyTrain station. It's also the closest hotel to the city's main hospital and Vancouver City Hall, which keeps the rooms busy.
Hampton Inn & Suites by Hilton Vancouver-Downtown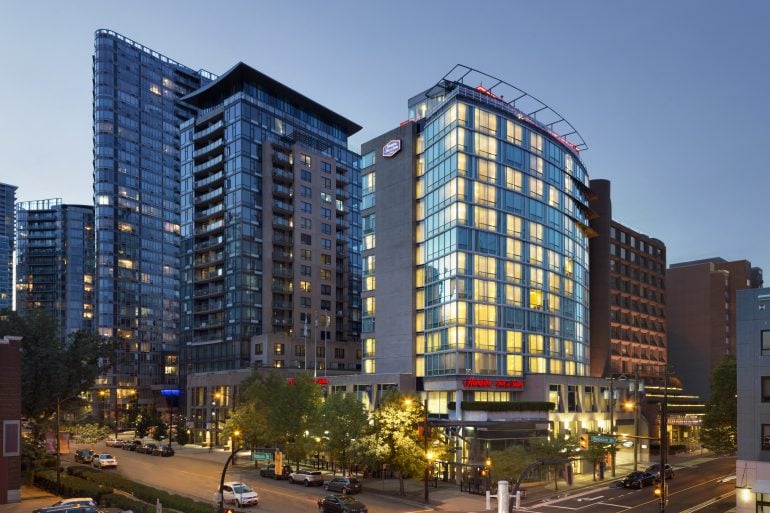 Another value-conscious option is the Hampton Inn & Suites by Hilton Vancouver-Downtown. This hotel has standard rooms as well as rooms that come with a fridge and microwave, making them ideal for families or long-stay business travelers. There are also one-bedroom suites with kitchenettes. As part of a stay here, complimentary breakfast is included for everyone, regardless of room rate. There are few Hilton Honors elite status perks at this limited-service brand.
Hilton Honors is another program that has no award chart and prices its room redemptions on a dynamic basis. It's hard to plan how many points you'll need, as the points rate can fluctuate. If you're in need of more Hilton Honors points, the program has several transfer partners, including American Express Membership Rewards. NerdWallet values Hilton Honors points at 0.5 cent per point.
Mid-tier hotel stays
Delta Hotels Vancouver Downtown Suites
Originally a Canadian brand, Delta Hotels was brought into the Marriott family several years ago. Marriott Bonvoy travelers will appreciate that this property is an all-suite location, meaning there is additional living space separate from the bedroom, and some suites have kitchenettes. Delta Hotels Vancouver Downtown Suites is within walking distance of many popular city areas like Gastown and Stanley Park.
Marriott Bonvoy will change the way it prices hotel redemptions in spring 2022. This means that redemption rates here will soon follow a dynamic pricing model and vary based on demand. Without an award chart showing off-peak, standard and peak pricing, it will be harder to determine in advance how many points you need for a redemption stay.
For now, you can still book a redemption night at this Category 6 hotel for 35,000 points during off-peak PointSavers dates, 50,000 points during standard dates, and 60,000 points if you travel on peak dates. Need more Marriott Bonvoy points? Those with American Express Membership Rewards points are in luck, as they can transfer points to Marriott at a 2:3 ratio. NerdWallet values Marriott Bonvoy points at 0.7 cent per point.
Sheraton Vancouver Wall Centre
This skyscraper hotel has long been a favorite of tourists and business travelers. It's centrally located near many area attractions and has floor-to-ceiling windows with city and ocean views. The Sheraton Vancouver Wall Centre also has a club lounge, making it a popular place to stay for those with Marriott Bonvoy's top elite status, as lounge access is a perk of their membership.
Until the redemption system switchover, you can book a redemption night at this Category 5 property for 27,500 points during off-peak PointSavers dates, 35,000 points during standard dates, and 40,000 points if you travel on peak dates.
Luxury stays
Fairmont Pacific Rim
You can use ALL points as a credit toward the cash room rate starting at 2,000 points (equivalent to a 40-euro discount, which is converted to the local currency). The on-site Willow Stream Spa is a guest favorite, and the hotel has several great dining options.
JW Marriott Parq Vancouver
For those who prefer to be in the middle of the action, the luxe JW Marriott Parq Vancouver is in the heart of the entertainment district. Near Gastown and Yaletown, this hotel does double duty as leisure and business venue. It has the largest hotel ballroom in the city, as well as its own spa and fitness center.
For now, you can still book a redemption night at this Category 6 hotel for 35,000 points during off-peak PointSavers dates, 50,000 points during standard dates, and 60,000 points if you travel on peak dates.
Hyatt Regency Vancouver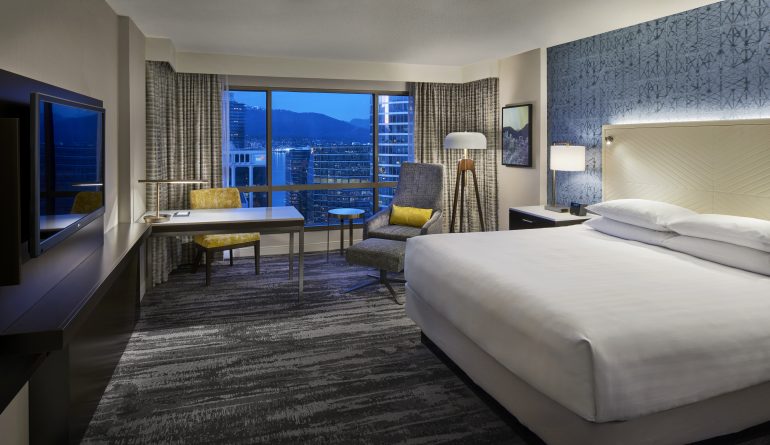 Rounding out Vancouver's top luxury accommodations is Hyatt Regency Vancouver, perhaps the best value in the city while World of Hyatt still categorizes hotels into groups for rewards redemptions. Close to the convention center, this hotel has modern amenities and city views.
This Category 3 hotel has standard rooms starting at 9,000 points for off-peak nights, 12,000 points for standard nights, and 15,000 points for peak nights. This is a great points value relative to the cash price of a high-end hotel in a major city. If you're short on Hyatt points but have Chase Ultimate Rewards®, you can transfer points directly to World of Hyatt to top off your account. Another unique way to accrue Hyatt points for elite members is to link their American AAdvantage account. The programs offer reciprocal points and miles earning for elite members.
If you want to stay in Vancouver on points …
There are plenty of hotels in Vancouver, many of which belong to loyalty programs where you can earn and redeem points. These are some of the best in the budget, mid-tier and luxury categories that balance central location with value per point.
If you want to maximize your points earning at these hotels, be sure to use a hotel credit card to pay for the stay. Even if you're redeeming rewards points, be sure to put down a hotel-affiliated credit card to cover any incidentals so you can replenish your balance for your next trip.
How to maximize your rewards